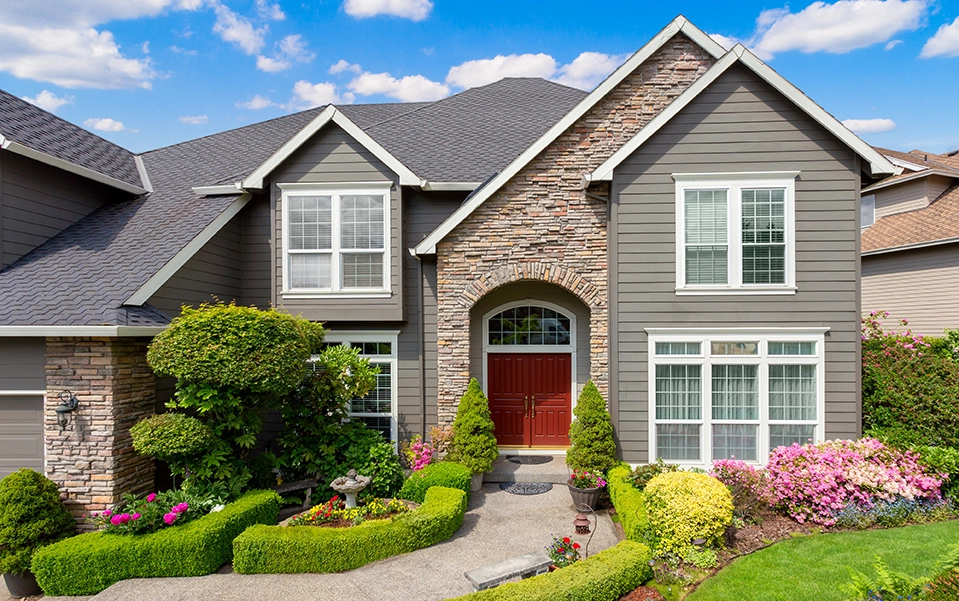 For centuries upon centuries, one of the most popular, attractive, and versatile materials for building homes has been stone. Its natural beauty and strength are coveted by people across the globe. But it's not always easy, affordable, or practical for homeowners to invest in real stone for their home remodeling projects.
Enter the versatile, durable, wallet-friendly option called stone veneer. Whether using it as siding to cover the entire exterior of a home, or applying it as an accent for home features that you want to stand out, cultured stone siding has many benefits and uses that Michigan homeowners can enjoy when making home improvements.
What Is Stone Veneer Siding?
Stone veneer siding—also called cultured stone siding or manufactured stone—is a manmade product that recreates the appearance of real stone.
Authentic Look
Stone veneer can be molded to create many different looks, replicating the charming appeal of rocks and stones in all their natural beauty.
Lightweight
Because it's manmade, cultured stone siding and faux stone products weigh much less than natural stone. Because it's lightweight, it can be used virtually anywhere in your home, without the need to install additional structure support.
What Are the Advantages of Using Stone Veneer Siding?
Homeowners love the natural, rich, rugged look that stone gives a home. Stonework adds an extra level of classy, luxurious style to any dwelling. And it has several benefits to consider:
Versatile
Stone veneer can be utilized in many different contexts and locations in your home's interior and exterior. It can be easily installed on almost any surface. And it's perfect whether you want full exterior siding or just to create accents on columns and walls.
Variety of Designs
No matter what style you want your stone siding or decorative stone home features to reflect, there's a cultured stone siding product to create it. Any look can be crafted for your home, such as:
Coral
Limestone
Fieldstone
Flagstone
Cobblestone
Brick
River rock
Durable
If you're looking for siding that is long-lasting and superbly resistant to weather elements, pests, and debris, look no further than stone veneer siding. It stands up to just about anything the environment can throw at it.
Affordable
Unlike natural stone, manufactured stone is lighter and simpler to produce, making it more affordable. You enjoy the attractive look of real stone for a fraction of the price.
Easy to Maintain
Unlike wood or real stone, there's no need to repair mortar, re-touch, or re-treat cultured stone. Simply install it, and enjoy years of great performance with little to no maintenance involved.
Great Return on Investment
If you're looking for a home remodeling project that will boost the value of your home, stone veneer siding yields a high return on investment—around 95% in 2019.
Great Ways to Use Stone Veneer on Your Home
Thinking of enhancing your home's curb appeal and attractiveness with a stone-related home improvement project? Consider these 8 ways stone veneer siding products can be used to create inventive, stunning looks that you and your guests will love.
1. Decorative Backsplash
Many homeowners dream of a kitchen remodel. Why not use cultured stone to create a rugged, striking backsplash that draws attention when anyone walks into the room?
2. Eye-Catching Fireplace
A fireplaces is a practical, attractive home feature that can really boost a home's appeal. A fireplace makeover using lovely stone veneer refreshes your home's look, adds value, and creates a centerpiece for any room.
3. Elegant Outdoor Firepit
If you enjoy cooking and entertaining outdoors during the warmer months, a firepit or built-in grill area is an excellent home upgrade. Stone veneer can create a natural look that's super affordable.
4. Bold Stone Columns
Even the small details of your home's exterior appearance can up its curb appeal. Why not install columns at the end of a driveway, the corners of fences, or alongside front steps—and wrap them with stone veneer for an inviting look?
5. Striking Faux Stone Wall
Another way to add a pop of excitement and natural beauty to your home is to use cultured stone siding to create a faux stone wall. This can be done inside your home, or can serve as your entire home's exterior look.
6. Dramatic Doorways
Whether you want a front entrance that stands out or you want a dramatic effect in an interior doorway between rooms, stone veneer can create a look that mimics the feel of a luxurious mountain home.
7. Spa-Style Bathroom
Love the rock wall features at your favorite day spa? Recreate the look with stone veneer in a remodeled master bathroom.
8. Mix and Match Siding
Who says homeowners need to stick to just one type of material for their exterior finish? Use stone veneer siding to create accent areas along portions of your exterior. Your home remodeling contractor can assist you in deciding how best to blend textures, colors and designs to achieve an attractive look.
For more ideas on how to use stone veneer to create gorgeous, eye-catching areas around your home, check out these Pinterest images of stone veneer.
Let Stone Veneer Enhance the Home You Love
When you're ready to invest in attractive, long-lasting, truly low-maintenance stone veneer siding to beautify your Michigan home, contact the expert home remodeling team at John McCarter Construction. To ensure you'll get the most out of your stone veneer remodeling, we'll consult with you, discuss your goals and the look you want to achieve, then walk you through the process of choosing cultured stone siding that's right for your dream project.
It's easy to get started—simply contact us for a free consultation and estimate, and we'll do the rest, so you can have a home you love to come home to, time after time.