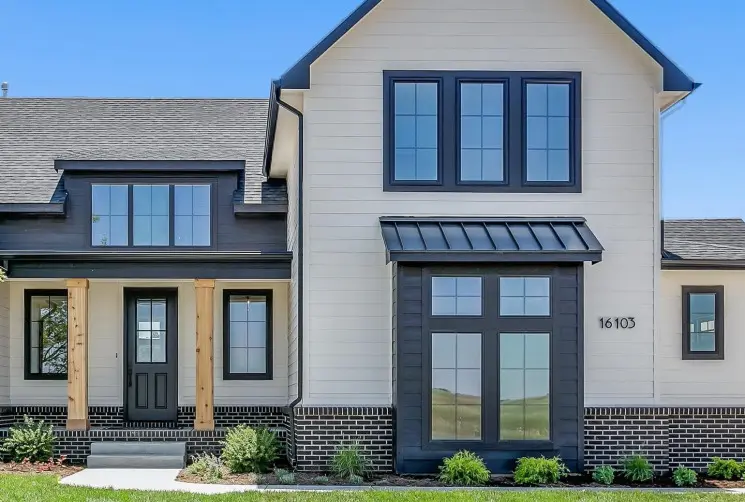 Does your home need a bit of a facelift? Older houses have a distinctive charm that is worth preserving, but there's a lot you can do to update the exterior so that you get the beautiful curb appeal you deserve.
Whether you're keeping your property or planning to sell soon, these 9 tips will show off your home impressively—and make you fall in love with it all over again.
Clever Ways to Give Your Home New Life 
Exterior upgrades can be as modest or as luxurious as fits your goals and budget. These suggestions can be applied creatively—especially when you work with a team (like ours!) that's committed to helping you breathe fresh life into your property.
1. Update Your Siding 
Your home's siding is one of the biggest contributors to its curb appeal. Yet many older properties have siding that has never been updated. Materials like wood and stucco can be high-maintenance and easily damaged by moisture, while vinyl dents and gets discolored.

The solution: Elegant, long-lasting James Hardie fiber cement siding. This gorgeous material is warranted for 30 years but often lasts 50 years or more. Its eye-catching shades and styles delight Michigan homeowners—which is why we love installing it!
Learn more about the possibilities by checking out our James Hardie fiber cement siding services.
2. Use a Contemporary Color Scheme 
If it's been a while since you've painted your home, your existing color scheme may make your exterior look outdated. Plus, aging paint fades, gets discolored, peels and cracks—making your property seem older than it is.
While white siding and black trim are classic, today's color palettes are all about making a statement. Trendy options include black siding, earthy neutrals, vibrant greens, and deep blues. 
Tip: If you choose James Hardie's ColorPlus Technology for your Hardie siding, you'll be able to choose from a large selection of gorgeous, fade-resistant colors warrantied for up to 15 years!
3. Redesign the Landscaping 
A plain lawn and drab shrubbery can make your property look old and poorly maintained. So can old design elements, like boxy, square flowerbeds. Give your front lawn an up-to-date appearance with curved flowerbed borders, fresh mulch, and new plants. Ecologically friendly options such as hardscaping (stonework, for example) and native grasses are also in!
4. Create a More Welcoming Entryway 
Your front entrance is vital to giving your property a contemporary, updated style. And there are many ways to incorporate modern design elements to invite guests into your home. Installing an attractive new door—or painting the existing door a fresh, bright color—will draw the eye and create a warm welcome.
5. Add Exterior Lighting 
Outdoor lighting makes your property easier and safer to navigate, and it can also give your exterior a whole new sense of style. The fixtures you choose—such as an attractive Victorian-style lamppost and LED light pillars along your walkway—can add a unique design element that catches the eye. You can also install lighting that highlights your home's best features
6. Install Big, Bright Windows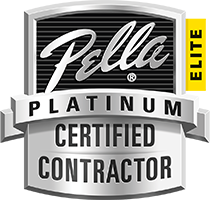 Aging windows cause a lot of problems for homes. They're inefficient, raising your energy usage. And they may not be up to the latest building codes, putting you at risk if you need an unexpected emergency exit. Plus, as the glass panes age, they make it harder for light to enter your home, and their frames can look worn.
New replacement windows from a high-performing brand like Pella (a favorite among Michigan homeowners!) can make your home look beautiful from the curb, while also bringing in more light, fresh air, and charm for your interior. That's a win-win!
Check out our Pella window replacement services.
7. Redo Your Driveway 
Worn, stained concrete, or cracked asphalt full of potholes will definitely age your home and make it look uncared for. There are many ways to update your driveway (and sidewalk)—from laying brand-new pavement to installing slate footpaths, decorative driveway pillars, or stamped concrete.
An added bonus: Fresh pavement not only boosts curb appeal but also makes your property safer by reducing the risks of slips and falls.
8. Invest in Fresh, Modern Accents 
A great way to refresh your home exterior is to invest in a few luxurious, contemporary features that are designed to stand out. If your gutters are looking old or are cracked and need updating, beautiful copper gutters are a high-end, modern option. Or, create an elegant look by adding a knee-high stone veneer to the bottom of exterior walls.
Tip: Decorative elements like mantels above front doors, windows, and garage doors are simple to install and create a beautiful new look for your home.
9. Add Decorative Touches 
If you're looking for quick, and affordable updates, choose modern fixtures that are easy to place around your exterior. Examples include: 
Stylish terra cotta planters with seasonal plants on your front steps
Attractive wicker chairs or a bench with colorful pillows on your porch
Lovely metallic outdoor hangings to decorate walls facing the street
New doormat with a matching seasonal wreath for the front door
Whimsical twinkle lights or Chinese lanterns suspended from your eaves
You can get as creative as you want with these little touches. And if you choose their colors and styles carefully, they'll match well when you're ready to invest in more significant home updates.
Remodel Your Home Exterior with John McCarter Construction 
As you get creative with your exterior updates, you may notice that your siding or windows are in need of replacement. When you invest in replacing these features, you'll not only boost curb appeal—you'll also enjoy lasting, low-maintenance performance that gives you peace of mind.
At John McCarter Construction our expert team can help you remodel your Michigan home. You'll love how beautiful and protected your home will be for years to come!