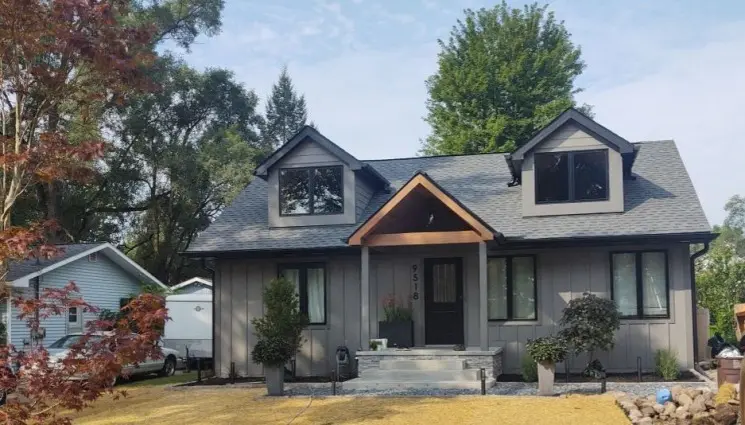 Location: Hamburg Township
Renovations: James Hardie Siding, GAF Roof, Gutters, Porch, Dormers, Doors, Windows
A Hamburg Township couple loved their 1980s bungalow-style home but knew it was in dire need of an update. The couple had seen some of the work that John McCarter Construction did on other area homes. Because of the high quality of those projects, they were confident we would meet their expectations and chose our team to undertake this extensive renovation project. We met with the pair and provided a detailed breakdown of the timeline and cost to complete the work and then got started!
James Hardie Siding Replacement Adds Style and Durability
The clients wanted new dormers built onto their home in a much larger-than-average size as well as a new porch. To accommodate their request, we worked with an architect to come up with the perfect design. Our team also explained the benefits of James Hardie fiber cement siding and the couple decided that would be a perfect fit for their home. James Hardie siding is engineered to stand up well to Hamburg Township's chilly winters and comes in many gorgeous, customizable styles. It also provides homeowners with a high ROI and is pest-resistant, non-combustible, and eco-friendly.
They agreed that James Hardie's siding would help them fulfill their vision for their home's updated exterior and chose the brand's 8 ¼ inch lap siding in Aged Pewter, Hardie siding in a Board and Batten style in Aged Pewter, and James Hardie trim in Cobblestone.
Topping Off the Remodel with a New Roof and Windows
They "topped it off" with a GAF asphalt shingle roof in Pewter Gray, Pella Lifestyle windows, black gutters, and a Smooth Star Fiberglass door with Chinchilla Glass.
Their Dream Home Exterior Realized
The Hamburg Township couple loved the look of their newly remodeled home exterior and raved about their experience with our team.
"The office and field staff were always available for any questions or concerns we had," they said. "The crews that were out were all professional and kept a clean worksite. We love the finished product and are amazed at the difference in our home."
For more than 25 years, John McCarter Construction has helped Michigan homeowners, including those in the Hamburg Township area, modernize and revamp their home exteriors to suit their aesthetics and lifestyle. At John McCarter, we know that your home is a huge investment, and you want to protect it with a long-lasting exterior. We'd love to hear about your project ideas! Contact us to learn about our low-maintenance, high-quality installations and how we can create your dream home exterior.