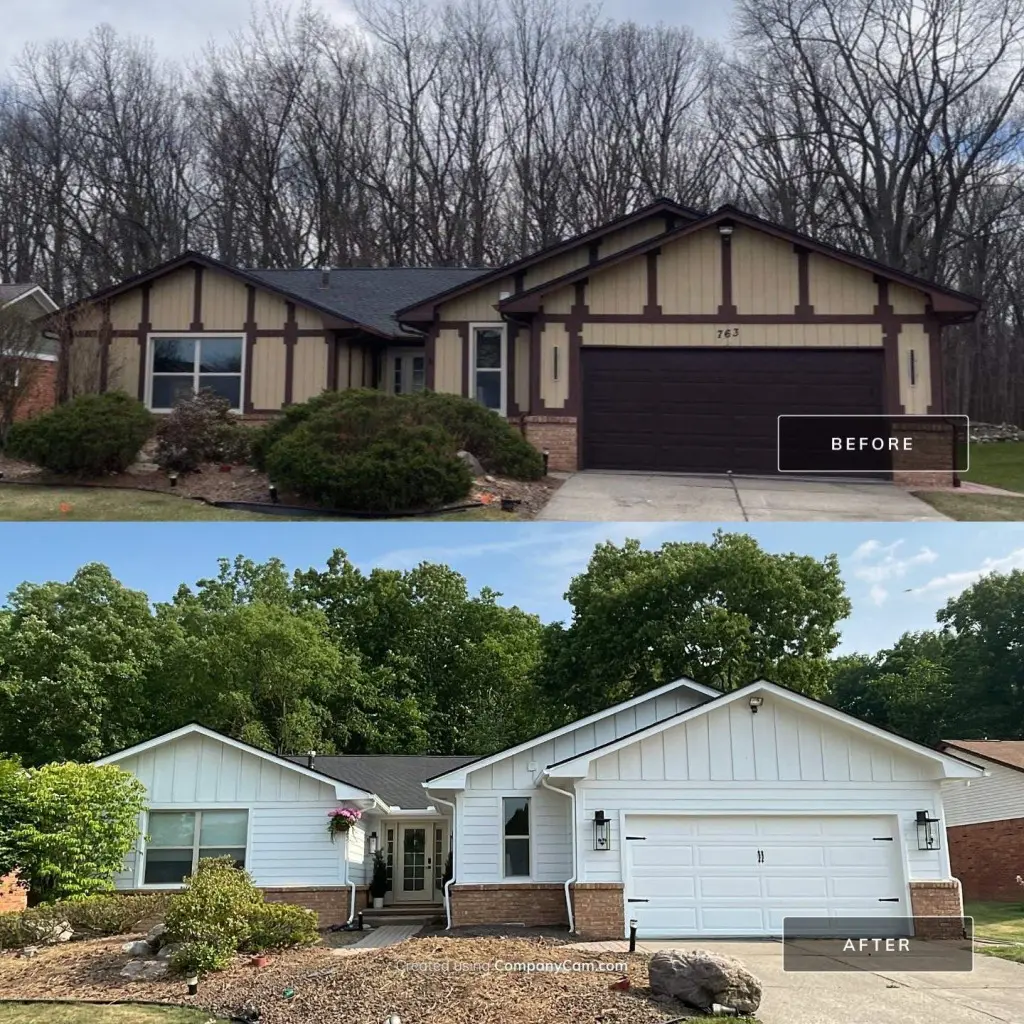 Home Transformation for Rochester Hills, Michigan Homeowners
Our recent project in Rochester Hills, MI involved a lovely ranch-style home with a couple who were facing multiple challenges. Mold in the attic, outdated wood siding in need of repair, and drainage problems with the existing gutters were all issues they needed our expertise to solve.
When it came to selecting a team for their project, the homeowners were impressed by our commitment to excellence from the very beginning. Our sales consultant stood out, being punctual, prepared, and presenting a thorough project agreement. Out of the five companies they considered, we were consistently recognized as the most organized and professional.
Our Home Exterior Solutions: James Hardie Siding, GAF Roofing, & New Gutters
To address the homeowner's problems, we provided a comprehensive range of services. Our team replaced the outdated wood siding with premium James Hardie siding and trim in Arctic White, boosting both the aesthetics and durability of the home. The installation of GAF Timberline HDZ Shingles in a beautiful Charcoal Blend enhanced the roof's appearance while providing exceptional protection. 
Additionally, we installed 5″ white gutters to solve the drainage issues, ensuring proper water flow away from the house. To tackle the mold problem in the attic head-on, we added soffit vents to increase ventilation, effectively solving the issue and ensuring long-term structural integrity.
Another hurdle we faced was the large glass sunroom. However, our skilled professionals bridged over it safely, allowing us to complete the siding installation seamlessly.
A 5 Out of 5 Star Review!
We take great pride in our work, and it truly shows in the satisfaction of our clients. After the project came to a close, the homeowners provided us with a glowing review, rating their experience with us as 5 out of 5 stars. They commended our exceptional organization, professionalism, and communication throughout the project.
With an efficient timeline for each aspect of their home improvement, including the roof, siding, and painting, the homeowners were delighted by the seamless progression. Having experienced our exceptional service and results, the homeowners are now considering their next project with us. They are interested in removing the sunroom and replacing it with a beautiful addition, further transforming their dream home.
If you're looking for a trusted partner to bring your home improvement vision to life, look no further than John McCarter Construction. Contact us today to discuss your project and join the many satisfied homeowners who have trusted us to create their perfect living spaces.
---