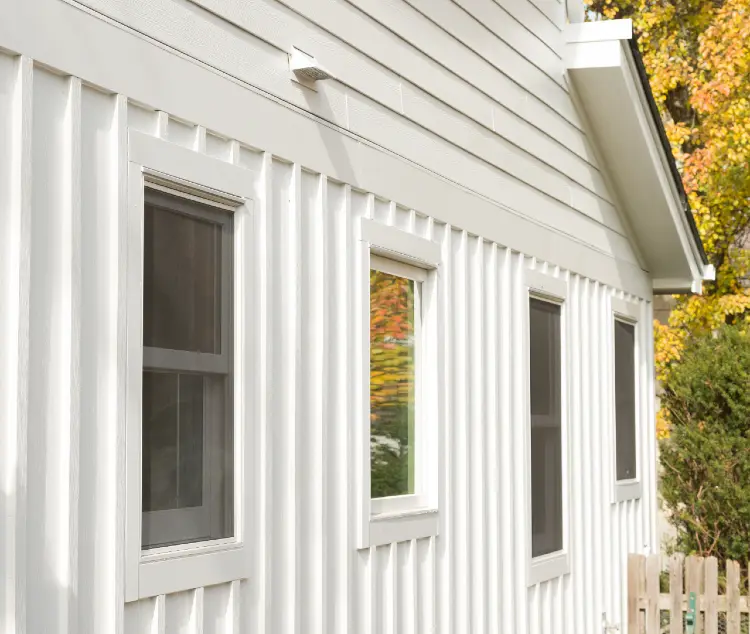 Traditional or modern, blending in or standing out… These are just two questions that homeowners face as they figure out what siding design is best for their home. After all, the look you land on can do a lot to boost curb appeal—but only if you do it right. Even the question of horizontal vs. vertical siding must be decided by careful consideration. These decisions can feel overwhelming, especially if you're not a design expert.
Not to worry, though—that's what we're here for! Our siding design experts at John McCarter Construction work closely with Michigan homeowners to narrow down the perfect exterior look for their architecture, neighborhood, and individual preferences.
Check out these tips for choosing between a horizontal and vertical design for your siding, so you can be confident in your home's enduring beauty.
An Overview of Horizontal Siding
What Is Horizontal Siding?
Commonly referred to as lap siding, this design hangs exterior boards from left to right (in other words, horizontally). Traditionally, homes have used natural wood boards to achieve this look, so you're likely to have seen it everywhere.
Advantages of Choosing Horizontal Siding
Affordability — This style of siding is generally less pricey than its vertical counterpart, so it's a great option if you're on a budget, updating a rental property, or flipping a house.
Traditional appearance — Historically, lap siding has been the most well-known look on houses, and it continues to have classic appeal.
Easy application — Horizontal siding is simpler and quicker to install than vertical siding, saving you time.
Potential Drawbacks of Horizontal Siding
Can be less durable — Horizontal siding has horizontal ridges where the boards overlap, and rain can trickle in. If you have wood siding, this can perpetuate wood rot, mold and mildew. One way to prevent this issue is to choose James Hardie® fiber cement siding, which doesn't rot.
Can be harder to clean — For the same reason that it's vulnerable to water damage, lap siding also needs more care during cleaning to prevent moisture from getting behind the boards.
An Overview of Vertical Siding
What Is Vertical Siding?
This look is achieved by installing siding planks in a top-to-bottom vertical fashion. It's often considered more modern than horizontal lap siding because it's only in recent years that this style has become more common for residential homes. But it has historically been used on commercial structures and buildings like barns, so you have likely seen it around.
Advantages of Choosing Vertical Siding
Unique — Because it's not used on homes as often as lap siding, vertical designs are great for creating eye-catching curb appeal that doesn't mirror every other house on the block.
Trendy — With vertical siding, you can achieve the distinctive and popular board-and-batten look so favored by homeowners across the nation.
Simple to clean — Water streams easily down the vertical planks, right down to the ground where it can drain safely away. This makes it a breeze to rinse away dirt, and reduces the likelihood your home will experience wood rot.
Potential Drawbacks of Vertical Siding
Longer installation time — Vertical siding requires more steps to install than its horizontal counterpart, including installation of an underlayer called furring strips, which evens out the surface and makes the vertical siding look smooth and streamlined.
More costly — Since installing vertical siding is a more complex process, the time and expertise involved increases what you'll pay in labor to have it done properly.
Potential challenge when selling your home — Vertical siding can be striking, but not all homebuyers like it. So if you're planning to sell soon, it may be worth consulting with a realtor first to get advice on whether vertical siding in your neighborhood is a good idea.
Other Considerations to Keep in Mind
Your house is a unique expression of who you are and what matters to you. And that means there are no hard and fast rules when it comes to deciding how your exterior appears. But if you'd like additional guidance on siding styles for any home, here are some suggestions that can help you narrow down your decision.
Traditional Homes Favor Horizontal Siding
If you want your home's look to have widespread appeal, lap siding is a good bet. The classic, timeless design is a smart option for historic homes and architectures like Colonials, Ranches, and Victorians.
Rustic Homes Favor Vertical Siding
The vertical board-and-batten design so common on barns is an appealing look for modern Farmhouses and Craftsman homes. Vertical siding is also a great way to add height to a small home, such as a Cape Cod.
For a Personalized Look, Mix and Match
There's no reason to stick exclusively to one style of siding. Get creative by using horizontal siding on the main house, with vertical accents on gables. Complex architectural styles, such as Queen Anne and Victorian houses, often benefit from a mix-and-match design.
Boost Your Siding's Value with Top-Performing James Hardie
Whichever look you go with, remember that your choice of siding material will also affect how your home appears and performs over the years. One of the best ways to marry curb appeal with low maintenance is to use the versatile, durable James Hardie brand.
Hardie's fiber cement siding is built to endure Michigan's cold, wet weather without rotting or breaking down. Its unique, baked-on colors are warrantied to last up to 15 years without the need to paint. It looks fantastic on any style home. In so many ways, Hardie siding is ideal, and it's designed to mix and match for a truly gorgeous home exterior.
Choose Long-Lasting Siding Installed by the Experts
John McCarter Construction is a James Hardie Elite Preferred Contractor—we're pros in installing vertical, horizontal, mix-and-match siding and more to ensure you get the best value and results from your home exterior remodeling. We listen to your needs and give you options so you can enjoy a home you're confident in for years to come. Let us know how we can make your home lifestyle dreams become reality.