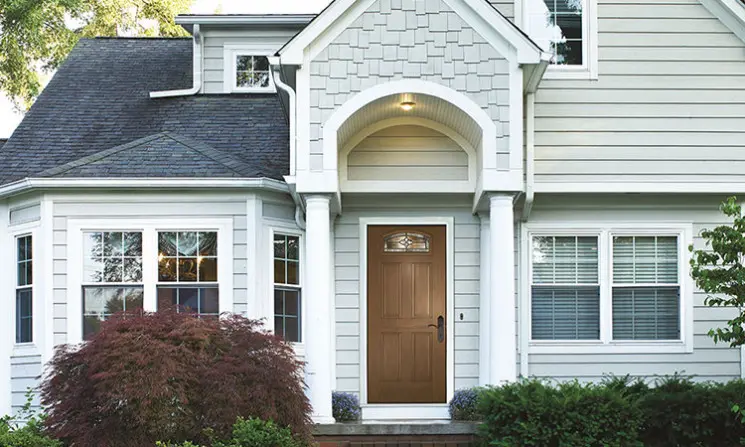 Your frony door can say a lot about your home. It serves as you and your guests' first impressions when entering, and last impressions while leaving. It keeps rain, snow, debris, and other elements outside and if in good condition, it can even help reduce your energy costs. Unfortunately, front doors don't last forever, and eventually, you'll have to consider replacing your front door.
When to Replace a Front Door
There are two conditions where replacing a front door is necessary. The first is when your door is too old to compete with modern energy efficiency standards; older models of doors tend to wreak havoc on energy bills. The second is when your door is heavily damaged, and unable to perform its basic duties of keeping the elements out. Beyond those conditions, you may want to find replacement doors if your entry door no longer suits the exterior of your house, or if you just want a change to spruce things up.
There are hundreds of options available for entry doors, so as a new consumer, it's natural to feel a little intimidated. Still, if you follow these six steps and start out with a good idea of your needs and your budget, you'll be in a perfect position to make the right decision.
Step One: Decide on Your Budget
As with any home improvement project, consider your budget before you start the process of finding a new front door. Though it may seem like a small project, installing a new entry door is an investment and should be treated like one.
Here are some questions to ask yourself as you consider what you'd like to invest:
What is within your budget to spend?
What will it cost to have the door installed?
How important is it for you to achieve a certain look, or use a certain material?
What types of features are must-haves? What is nice-to-have? Knowing the difference can help you trim costs.
Step Two: Find the Right Size Entry Door
Getting the right size door is vital if you want a smooth installation and proper functioning afterward. Most standard doorways are between 32 and 36 inches wide, but this isn't always the case. Extra wide doorways can extend over 40 inches, and you may have a double entry door as well. There isn't much flexibility when it comes to the size requirements of your doorway, so measure carefully and only look at options that fit your intended frame.
Step Three: Choose the Right Door Materials
There are many different door materials to choose from, and the material you pick for your front door can completely change the look and feel of your home, and either improve or detract from its curb appeal.
The major material choices you'll have are:
Wood entry doors are more traditional and will give your home's entryway a classic, natural, and rustic feel, making your home warm and welcoming.
Fiberglass front doors are durable and maintenance-free, and they typically mimic the look of wood, so you can get a rustic feel without the cost of solid wood.
Steel doors are the most affordable option, and they're also the best choice if security is your top concern. Steel doors can have a modern feel, but they can also have a classic look if there's a lot of inlaid glass. Steel entry doors are heavier and more resistant to warping and damage.
While all of these are great options, the important thing is that you pick a door that complements the style and design of your home, rather than picking something that will compete with the design because it's inconsistent with the look of your house. For example, a steel door with ornate glasswork might be out of place in a rustic home with wood siding but could be perfect for a regal house with a stone exterior.
Step Four: Find a Front Door Style That Suits You
Style is the area where you have the most flexibility and the most options to personally explore. You won't find much difference in function between different styles of doors like you will different materials, but you will find different price ranges and very different tastes.
As a simple example, you may opt for a door with or without windows—and the windows themselves may be traditional, frosted, or even stained glass. They may be arranged in a specific pattern, or there may only be one. Some replacement doors offer arches, while some are more traditional, and your choice of colors and designs are practically limitless.
Here, your decision should be based on your own personal preferences; think about what will look best in the context of your home's exterior, and what you want people to see when they walk into your home for the first time. Take your time to explore these options, and only settle once you've found a design that fits.
Let Surrounding Styles Guide You
Take the style of your home and neighborhood into consideration when choosing your new front entry door. Your major style choices include traditional, arched, modern, rustic, and craftsmen, and you should pick one that complements the existing exterior design of your home and fits with the overall style of the neighborhood.
Consider Energy-Efficiency
Your front door adds an attractive flair to your entry, but that's not all it does. It can also keep in cool air during summer and hot air during winter. So, don't overlook energy efficiency aspects when selecting a door.
Among the questions to consider:
Is the model rated as Energy Star-qualified by the EPA? An Energy Star rating means the door has been independently tested and proven to increase energy efficiency.

Do you want glass panels? If so, does the door come with insulated glass options?
Step Five: Choose the Right Front Door Color for Your Home
After choosing a material for your replacement door, you'll also have to select a color, which can be just as difficult. Your options here are essentially limitless, but you can break down your choices into categories that include Earth tones, bright colors, hot colors, and cold colors. Again, the style and design of your house should provide you with guidance here: a hot pink door might not work with the rustic log cabin, but it could be a perfect complement to a modern house with dark steel siding. Here are some classic style and color combinations:
Colonial homes with cold colors, specifically greens, grays, and blues
Mission-style homes with warm and vibrant colors, such as red and orange
Ranch homes with warm Earth tones like brown, camel, and beige
Step Six: Consider the Quality You Need
Even once you've decided on a size, material, and basic style that you want, you'll have to consider the quality of door that you need. As you might imagine, higher-quality replacement doors come with higher price tags, and economy options can save you money, but also offer less functionality and durability. There's no right or wrong decision here, but higher-quality doors do tend to be better long-term investments; they have longer lifespans and add more value to your home. Consider your budget carefully, and shoot for the best-quality entry door you can reasonably afford.
Other Considering Factors
After you've selected the proper replacement doors, all that's left is the matter of choosing the right professional to install them. Choosing the right door installation contractor is important to ensure you get the most out of your investment; you'll want to pick a door installation contractor who is experienced and reliable, but affordable enough to keep you well within budget.
If you're interested in learning more about possible replacement doors for your home, or you've already made a decision and you're looking for a door installation contractor, ask us for a quote or schedule a consultation. With over 25 years of experience and some of the best door installation professionals in the business, we know our way around front doors and can help you through each step of the selection, buying, and installation process. We'll make sure you make the right decision for your home.