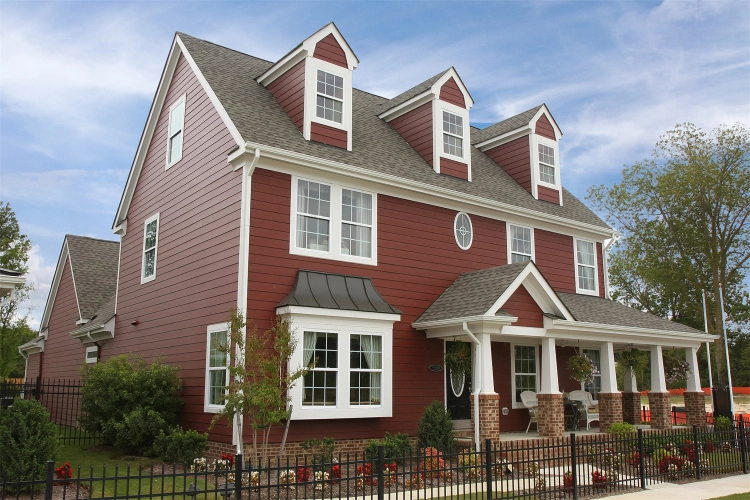 Versatile Fiber Cement Siding that Works for Any Architecture
A home's exterior siding is one of the first things guests notice. Your siding, properly installed by a professional siding contractor, can add a unique look or a classic appearance that pleases the eye. The choice you make in siding can go a long way toward determining how much curb appeal your home has—especially when you select the flexible design options the James Hardie company is known for. No matter what architectural style your house is, James Hardie has designs that will complement your home.
Let's look at how James Hardie siding benefits 3 popular architectures in Michigan — Colonial, Craftsman, and Ranch style houses.
Colonial Style Homes
A traditional, historical home style that is well-known across the country, Colonial homes are stately and classic in their architecture. You'll know a Colonial home by its symmetrical structure, including columns on both sides of the front entryway, which is located at the center of the house. Colonial houses typically have two to three stories, offering plenty of space for families to grow into. Their gabled dormers, crown molding, and other details create a sense of calm elegance that appeals to many homeowners.
How James Hardie Siding Benefits a Colonial Home
Go traditional — In the past, Colonial houses featured white clapboard siding and red doors. If you're desiring a historical look, James Hardie's beautiful, baked-on white ColorPlus siding can add a lasting classic appearance that doesn't need to be repainted as often as wood.
Get creative — Many homeowners like to mix the traditional Colonial house structure with more modern traits, and James Hardie makes that easy by allowing homeowners to combine different siding styles as they wish. Michigan homeowners often enjoy using HardieShingle on the front of the home, with horizontal Hardie lap siding on the sides and back.
Play with colors — James Hardie siding comes in pleasant shades such as blue, grey and tan that look lovely on a Colonial home, and you can blend that with a more classic white on your James Hardie trim to emphasize this home style's flair.
Craftsman Style Homes
Whether you're looking at a Bungalow, a Prairie style home, or something similar, all the homes that fall under the umbrella of the Craftsman style have several key features in common. Craftsman houses are cozy, usually one or one-and-a-half stories. Their open floor plan, large fireplace, built-in cabinetry and visible beams and rafters create a warm, lived-in feel that homeowners appreciate. And their large porches with overhangs invite families and guests to relax outdoors and chat over steamy cups of coffee or cool glasses of iced tea.
How James Hardie Siding Benefits a Craftsman Home
Adapt to your home's specific style — Craftsman houses encompass several different types of homes built during the 19th century's Arts and Crafts architectural movement. For example, the Four Square style of Craftsman home has two floors with four rooms each, while the Mission style of Craftsman home has rounded features, arches, tile and stucco. James Hardie siding comes in many styles, allowing you to choose what matches your home best.
Mix and match — Because James Hardie siding is available in multiple looks, it is easy to combine different siding products to achieve a look that really makes your Craftsman home pop. HardieShingle looks great on peaks and gables, while HardiePlank lap siding can be blended with board-and-batten siding to bring out the Craftsman style's attention to artistic detail.
Ranch Style Homes
Many homeowners love the open-concept floor plan and spacious one-story design of the American Ranch house. These homes are simple in style, affordable, and comfortable to live in and build onto, making them ideal for older couples who want to age in place in an easily maintained home, as well as young families interested in a starter home. Ranches are usually located on wide lots, allowing for expansion if desired. With vaulted ceilings, large picture windows, gabled roofs and attached garage, Ranch homes offer a sense of ease and beauty all their own.
How James Hardie Siding Benefits a Ranch Home
Take advantage of the versatility — The many siding looks possible with James Hardie products allow homeowners to customize their Ranch's curb appeal. Board-and-batten siding lends a modern farmhouse vibe, while HardiePanel siding creates a smooth contemporary feel. Combining Hardie lap siding on the sides of the home and HardieShingle on the gables can make a Ranch house feel like a Craftsman in its artistic detail.
Get bold with color — James Hardie siding comes either preprimed to take any paint color you choose after installation, or with durable, beautiful ColorPlus color baked on in the factory. Either way, homeowners get to mix and match a wide variety of shades for a customized look that is great on a Ranch home.
Other Popular Home Styles in Michigan
Not surprisingly, James Hardie fiber cement siding is so versatile, it looks great on just about any home you can imagine. So if you have a home in a different style than already mentioned — such as Tudor, Victorian, Greek Revival, Queen Ann, and Cape Cod — rest assured that James Hardie has a style design and color palette that works perfectly for your needs.
Use James Hardie's Online Tools to Choose a Customized Look Before Installation
Looking for more ideas? Want to visualize an exterior siding design before committing? It's easy to do this with James Hardie's virtual tools. The James Hardie Home Color Visualizer lets you play with color combinations so you can decide on what you like best.
Add Home Value with Versatile James Hardie Siding

Our friendly siding team loves designing looks that fit Michigan homes perfectly, adding low-maintenance elegance and charm to your home. Contact us for a free consultation that helps you discover the possibilities James Hardie siding offers you.