Also Serving the Rochester Hills & Detroit Metro Areas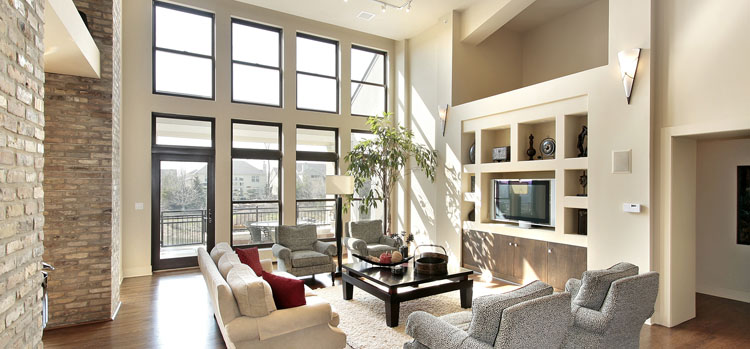 Stylish and Durable Premium Fiberglass Window Installation
John McCarter Construction's expert team of fiberglass window installers can meet your window replacement needs from start to finish. Our superior fiberglass window products and quality fiberglass window installation service are the cornerstones of our business. When we install your premium fiberglass windows, the job isn't complete until you are satisfied.
Over time, windows can warp, rot, and crack, especially in the extreme heat and cold of a typical Ann Arbor year. When it's time to replace your worn-out windows, fiberglass may be the right choice for you. These windows are shaped from molded pieces of glass, making them strong and energy efficient. They come in a variety of styles and shapes and can be painted to match your interior and exterior finishes or painted at the factory with a baked-on finish that won't peel. With fiberglass windows, you can create the perfect look for your home.
Benefits of Installing Fiberglass Replacement Windows
Fiberglass is simply the best insulating material in manufactured windows to date. It does not conduct heat or cold easily, making it perfect for nearly any environment. The fiberglass expands and contracts at a similar rate as glass, which results in a great fit between the panes and the frame. This reduces air leakage and provides stability when exposed to temperature extremes throughout the year. There is no condensation and they require minimal maintenance.
Fiberglass windows can be custom-made to any shape or size, giving you nearly unlimited options. They come in a variety of styles including double-hung, casement, awning, picture, and slider windows. Each style is durable, secure, energy efficient, and are built with long-lasting hardware that will dutifully serve you for years to come.
What Do Fiberglass Windows Offer Ann Arbor Homeowners?
They are versatile in style and color, and are very easy to care for. They are energy efficient, which can help reduce heating and cooling bills. They also come with safety locks that prevent children from opening them, giving you peace of mind.
Some additional benefits include:
Weather resistant
Corrosive resistant
Noise blocking
No condensation
Low maintenance
Energy efficient
Adds value to your home
Paintable
The John McCarter Construction Fiberglass Windows Method
Selecting and installing new fiberglass windows can be an overwhelming project for many home owners. Fortunately, we are experts in this field and are here to help. Our window replacement team will come to your home and assess your needs. Once we understand the project, we can help you make informed decisions regarding hour fiberglass windows. We supervise the installation and guarantee your satisfaction.
Our Fiberglass Window Brand of Choice
Pella Windows
Windows Installed to Pella's Exact Specifications
Homeowners expect durability and performance when replacing their home's windows. Pella fiberglass replacement windows meet homeowner standards without compromising style. When you hire a specially trained Pella Platinum Elite Certified Contractor you can enjoy the long-lasting benefits and the confidence knowing your windows are installed to the manufacturer's specifications.
Quality and Perfection for Your Home
When you want quality windows for your home, trust the professionals at John McCarter Construction. We are a trusted window contractor and we have the customer satisfaction to prove it.
If you are ready to replace your windows, call John McCarter Construction today to get a FREE replacement window consultation today.