Is your home exterior looking worn down by weather, damaged by pests and moisture, or in need of yet another paint job to try to spruce it up? It may be time for an upgrade to America's number one siding preferred by homeowners across the country — fiber cement siding also known as James Hardie siding, Hardie board siding and Hardie Plank. This versatile, attractive, long-lasting choice for home exteriors is ideal for your siding replacement needs — yet many people don't know much about it.
At John McCarter Construction, we've seen how happy Detroit area homeowners are with the low maintenance, beauty, and value they enjoy when they install fiber cement siding. As a James Hardie Elite Preferred Contractor, we're both experienced in proper installation techniques and experts in how this form of siding can benefit you for years to come.
We've put together a handy guide to the advantages of fiber cement siding installation so you can consider whether James Hardie siding is right for your home before you commit to a home exterior renovation.
What Is Fiber Cement Siding?
For nearly a century, the option of fiber cement siding has been available, but only recently have many homeowners and builders realized its potential. Not only is fiber cement siding practical, but it can also be beautiful and stylish. Made of an extremely solid composite of sand, cement, and cellulose fibers, fiber cement provides an affordable, durable, and fire-resistant alternative to natural wood siding. Its customization options are so vast, it can be designed to mimic the aesthetically pleasing appearance of wood or stone.
Why Use Fiber Cement Siding?
Siding is a vital part of your home, so it's not something you should downplay when doing exterior renovations. There are numerous benefits to using James Hardie siding. Here's a closer look.
Aesthetically Pleasing
In terms of curb appeal, fiber cement siding is a smart option. Whether you opt for James Hardie's baked-on ColorPlus® Technology or paint it after installation, fiber cement retains its beautiful color much longer than wood siding. And it can easily be repainted when you want to vary your home's appearance, something you can't do with vinyl siding.
Environmentally Friendly
Unlike vinyl siding, which breaks down over time and adds to toxic carbon dioxide emissions, fiber cement siding doesn't release toxins. It lasts much longer than vinyl too, so it has less impact on landfills. It doesn't leave behind the kind of carbon footprint other types of siding do.
Fire and Heat Resistant
This is one of fiber cement siding's most valuable qualities. Wood siding fuels a fire, as does vinyl. But fiber cement siding resists fire and heat and is rated as noncombustible. It remains strong and structurally unaffected during even the most intense heat. As a result, many insurance companies decrease insurance rates after its installation.
Insect Resistant
One of the major concerns for wood siding is the damage insects can cause to it over time. Termites, carpenter ants and other insects can't eat fiber cement siding, which means your home exterior remains safe and sound.
Long-Lasting
The average life of siding made of fiber cement is 30-50 years, outlasting wood and vinyl, especially when it's properly installed and maintained. Installing fiber cement siding on your house means it will last a long time, unlike other options that you will need to replace more often.
Low Maintenance
A simple cleaning once or twice a year with a gentle nylon brush and a garden hose is all the maintenance fiber cement siding typically needs. Because paint doesn't soak into fiber cement the way it does with traditional wood siding, it is easier to clean and bring back to its original, shiny look.
Variety of Styles
Fiber cement can be designed to look like any style of siding out there, allowing it to appear as natural wood, stucco, or other kinds of masonry. With the ability to customize the look you want, you can find something that works for your personal preferences and home's architecture.
Great Warranty
James Hardie siding comes with one of the best warranties in the industry—up to 50 years if properly installed and maintained—giving you peace of mind for years.
Woodpecker and Pest Resistant
Woodpecker and other pests can literally destroy wood siding as they look for tasty termites and other insects. Since fiber cement siding resists insects, it isn't attractive to woodpeckers and other pests the way natural wood and even sometimes vinyl is. The additional cost of wood rot, mold, and mildew brought on by damage caused by pests is no longer a concern with fiber cement siding.
Strong Return on Investment
Installing gorgeous new James Hardie siding can help sell a home quicker and at a greater price, making it well worth your investment.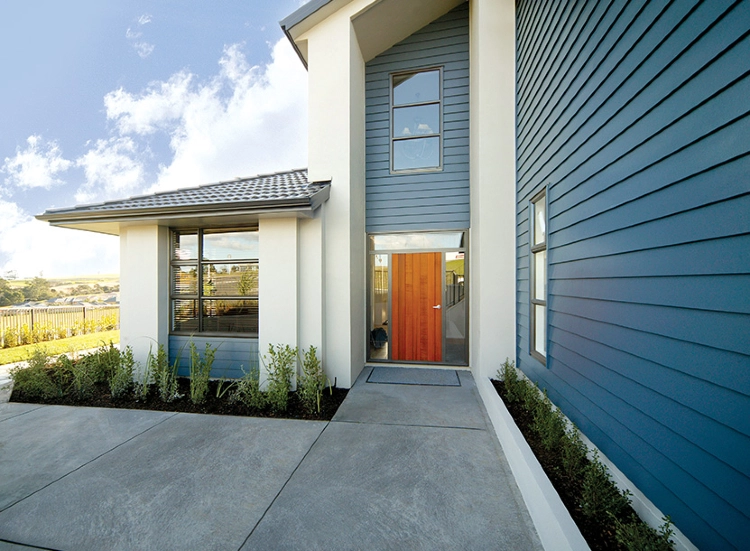 How Much Does Fiber Cement Siding Cost?
The precise siding replacement cost of James Hardie fiber cement depends on several different factors — such as the size of your home, where you live, and the product styles you select. Fiber cement siding is also weighty and requires a well-trained crew for proper installation. It may initially cost more than vinyl, but it also outlasts vinyl and stands up much better to the elements. It requires less upkeep than wood, and needs replacement less often.
So, look beyond the initial siding replacement cost and consider also the benefits you'll get from longer lasting siding, less frequent painting, easier maintenance and insurance discounts, as well as the fabulous James Hardie warranty.
Love Your Home and Love Your Siding for Years to Come
Siding replacement doesn't have to be a difficult or daunting project, not when you know your options and work with a siding contractor that cares about giving you your dream home. With our Homeowner's Complete Guide to James Hardie Siding, you can be well informed on how fiber cement siding will beautify your home, keep it easy to care for, and add value that gives you confidence for years.