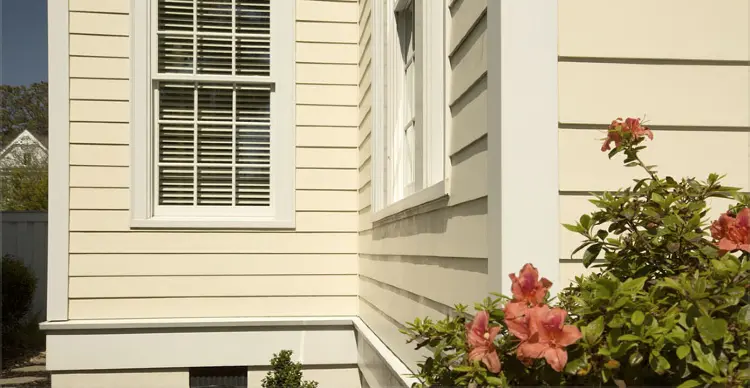 Old, worn-down siding not only makes your home look lackluster—it can also put your house at risk of leaks, poor insulation, damage from pests and other problems that decrease your home's value. So, when it's time for an exterior remodel, don't put it off. Safeguard your dwelling and create eye-catching curb appeal by investing in industry-leading James Hardie fiber cement siding.
A Fiber Cement Siding Replacement You Can Trust for Decades
Also known as Hardie Board siding, this elegant, durable fiber cement line of products is so valuable and satisfying, that it's the #1 siding replacement option across the nation having been installed on more than 8,000,000 homes. Here's why it's worth the investment to protect your home with James Hardie siding.
For nearly a century, fiber cement siding has been available, but only recently have many homeowners and builders realized its potential. Not only is James Hardie fiber cement siding practical, but it can also be beautiful and stylish. Made of an extremely solid composite of sand, cement, and cellulose fibers, fiber cement provides an affordable, durable, and fire-resistant alternative to natural wood siding. Its customization options are so vast, it can be designed to mimic the aesthetically pleasing appearance of wood or stone.
1. Unrivaled durability
Without question, the most obvious reason Hardie Board siding is so popular is its overwhelming durability. Due to its element-resisting fiber cement makeup, Hardie siding can withstand nearly anything Mother Nature can throw at it. Year after year, it stands up well to wear and tear. It resists moisture penetration too, saving you repairs due to rotting, swelling, or warping.
2. Unparalleled curb appeal
People choose Hardie Board siding replacement because it makes a home stand out. Unlike wood siding, it doesn't need to be repainted every few years. It catches the eye because it's designed with grooves and grains that produce a gorgeous, real-wood look, without the time-consuming maintenance wood requires. Hardie's ColorPlus boards come with a 15-year warranty on its fade-resistant baked-on color. With so many different design options, James Hardie can achieve any desired look for your home.
3. Resistance to pests
Homeowners spend about $3,000 on average to repair damage from termite infestation alone, not to mention birds and other pests. Unlike wood, James Hardie siding provides an excellent defense against termites, carpenter ants, woodpeckers and mice. This makes it easy to understand why Hardie Board siding is so popular among builders and homeowners.
4. Unmatched warranty
James Hardie wouldn't offer homeowners a 30-year non-prorated, transferable warranty if its siding wasn't long-lasting. This fantastic warranty coverage gives customers peace of mind. When you opt for the factory-applied, baked-on ColorPlus Technology for your siding replacement, you enjoy a 15-year warranty against peeling, chipping, and cracking. These guarantees are an incredible testament to James Hardie's reliability. When you install Hardie Board, you get the satisfaction of knowing the company stands behind its products.
5. Impressive customizability
A huge appeal of Hardie Board siding is the large number of style options from which to choose. Your personal preferences and your home's architectural style matter, and with Hardie Board siding, you can design the look and feel you love. Whether you live in a classic Colonial or handsome Craftsman home, Hardie Board siding helps you create a beautiful, historically accurate and architecturally correct look that neighbors will envy and homebuyers will pay for.
In addition to styles, there are more than 700 ColorPlus Technology color finishes to choose from. With so many design possibilities, you'll have a home that looks terrific for years to come.
6. Fire resistance
A siding that can resist fire is critical in this day and age of wildfires and other disasters. Since a home's exterior is the first line of defense, it's important to choose siding replacement products that stand up against flames. Since fiber cement siding isn't combustible, it doesn't add fuel to a fire. Hardie Board siding gives your family added protection against fires and confidence that other home exterior products simply cannot provide.
7. Expert installation

The James Hardie Company stands by its product so much that they train the contractors. It is only installed by certified, trained installation professionals. John McCarter Construction is a James Hardie Elite Preferred contractor—their highest form of certification—ensuring your siding replacement is installed to James Hardie's rigorous standards. Our precision installations ensure you get the full benefits of the second-to-none James Hardie warranty.
8. Eco-friendliness
Year after year, James Hardie has taken steps to keep our planet and communities clean, providing long-lasting products that require less frequent siding replacement—which means sending less to landfills. In 2020, for the ninth year in a row, the Green Builder Media annual Readers' Choice survey awarded James Hardie the "Greenest Siding Brand." With their use of sustainable practices and natural materials, Hardie Board remains the best environmentally-friendly siding option available.
9. Low maintenance
It's simple: Homeowners love James Hardie siding because it is so easy to maintain. It doesn't fade, crack or warp, meaning you make less repairs than you do with wood and vinyl. And while fiber cement boards do need touch-up paint, Hardie Board siding retains its color better and longer than vinyl and wood. Cleaning is simple too—homeowners only need to spray their home exterior with a garden hose once or twice a year and use a medium bristle nylon brush to wipe away any dust and buildup.
10. Weather resistance
Fiber cement siding stands up beautifully to the elements, outperforming wood and vinyl siding. On top of this, James Hardie siding is Engineered for Climate, so you can choose the products that can best handle Michigan's cold, wet weather. Violent winds during severe weather won't easily lift or damage properly installed fiber cement siding. Hardie Board siding is also highly moisture resistant, which prevents cracking and other forms of weathering.
Love Your Home Exterior with New James Hardie Siding
When it's time for you to invest in a siding replacement, you can rely on James Hardie products to give you superior performance and curb appeal that lasts for decades.
And when you're ready to commit to exterior remodeling for your Michigan home, John McCarter Construction is ready to assist you with topnotch, precision workmanship. In fact, we're so proud of our installations that we guarantee our work. Our simple, straightforward process will have you enjoying your gorgeous, low-maintenance exterior for years to come.
Contact us today for a free quote on our 5-star James Hardie siding replacement services.