Snow and ice may look pretty, but they can cause a lot of problems for your roof—especially when combined with other winter weather troublemakers like wind, sleet, and freezing temperatures.
Since the first step to protecting your home's roof is awareness, it's worth learning what can go wrong with your roofing when harsh storms do damage. Here's what you need to know as you get ready to hunker down this winter:
The Reasons Winter Storms Can Cause Roof Damage
Stormy winter weather can unleash several elements that can harm your roofing. So, be weather aware when you see forecasts like this:
Significant Snowfall
Large amounts of wet snow can be very heavy, putting a lot of pressure on your roofing, which can sag and break under the weight. But surprisingly to many homeowners, even a few inches of snow can be a problem. Every home is different, and so is every roof—some handle heavy weight better than others.
If your roofing is at the end of its lifespan, or if the surface of your roof is low-sloped or flat, the snow can't easily fall to the ground. The growing weight of snowfall can cause leaks, sagging, structural damage, and cave-ins.
High Winds
During winter storms, the wind can pick up and become very strong. Powerful gusts and blizzard conditions pose a real risk to roofing. The pressure can pry up asphalt shingles, curling them or even blowing them right off—exposing the structure underneath to damaging moisture. Plus, high winds can cause tree branches to fall on your roofing, breaking roof shingles.
Accumulating Ice
A lengthy ice storm can lead to thick buildup on your roof, which like snow, can become heavy enough to cause a cave-in. More often, however, freezing precipitation accumulates on your roof, then melts and refreezes as temps rise and fall. This leads to ice dams (a thick buildup at the eaves), which block your gutters and lead to leaks.
4 Areas to Check for Signs of Roof Damage
Should a winter storm cause issues in your roofing, you will likely see the results in these four places around your home:
1. Overall Roof Structure
Heavy snow and ice can quickly accumulate atop your roof—creating a lot of weight that presses down and finds weak spots. This becomes more common as your roof shingles age, and shows up as sagging and even cave-ins.
2. Roofing Shingles
Aging roof shingles, which are definitely common on old Troy Colonials in our region, are more susceptible to very cold weather. As temperatures drop down to freezing and below, roof shingles can become brittle, crack or break. Just a few inches of shingle damage can expose your home to leaks—leading to mold buildup, wood rot, and even electrical shorts and fires.
3. Attic
When roofing is affected by snow and ice, it can lead to excess moisture accumulating in your attic. You may have water stains, leaks, wet insulation, mold spots, mildew odors, and wood rot. Electrical wires can be exposed to moisture, causing shorts and sparking fires.
4. Gutter System
Snow, ice and high winds can block your drainage system, leading to leaks in the attic and pools around your foundation—which can cause structural damage. Gutters can also be knocked out of place or broken during a winter storm.
Safeguard Your Home with a Strong Roof from John McCarter Construction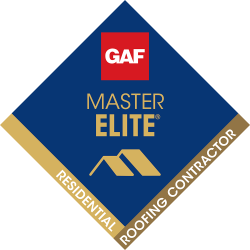 Left unchecked, these issues will continue to worsen, putting your Michigan home's structure at further risk and adding up to costly damage. But DIY fixes like sweeping snow and chipping ice off roofing and gutters can cause even more roof problems and expose your home to further moisture damage. So if you see any of these issues cropping up, call on a roofing contractor to get an inspection and advice on next steps right away. 
Our expert roofing team at John McCarter Construction will carefully inspect your roof for damage and if it's time for new roofing, we'll help you select lovely, lasting materials you can count on year after year. Learn more about our roof replacement services.