New siding provides homeowners with a distinct opportunity to create a fresh sense of curb appeal and add vitality to their property. And while certain colors—such as white, light grey, and light blue—are seen everywhere, you can create a unique home look that draws praise by adopting an increasingly popular option:
Dark siding.
Yes, dark colors are surging in use on homes. And when you consider how they can make your home stand out, you may just find yourself opting for this modern, appealing siding design.
Dark Colored Siding: A Rising Trend Homeowners Love
Take a drive around the neighborhoods where you live, and you may be surprised to see how many people like you are opting for black, brown and slate gray siding colors these days.
This trend is more than just a hip look. Dark colors offer a lot of advantages that you'll appreciate for your home's visual style.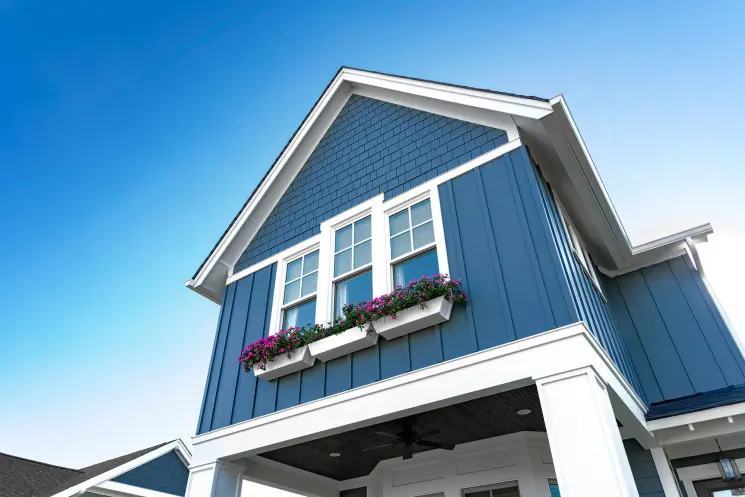 Provides a Personalized Touch
Let's face it—anyone can paint their home white, and they often do! Light colors have been the go-to choice for many homeowners.
But if you're longing for an exterior design that expresses your unique sense of style, then consider the advantages of dark tones. Your home will be visually different, and will definitely catch attention.
Works on Any Type of Architecture
This may seem surprising at first glance, but gray, black, brown, hunter green, and other dark shades actually can look striking on any style home. From Victorian to modern Farmhouse and more, dark colors work quite well to create beautiful curb appeal.
Makes Landscaping Stand Out
By using a black, brown, gray or other deep shade for your siding, you create a sort of negative space that can allow bright elements nearby to stand out even more. This is a great way to draw attention to your lush green trees.
You can boost this effect even more by intentionally painting your front door a vibrant yellow, orange or sky blue. Or, add flower beds full of brightly colored plants, such as a rainbow bed of snapdragons and tulips.
Keeps Home Warmer in Winter
It's true that dark shades draw in heat from the sun, a distinct advantage during colder months and in northern climates. So, it's common to see dark siding on homes in Scandinavia, for example. And it can work for Michigan homes too—keeping your interior better insulated in snowy, icy weather.
Creates Upscale Style
Much like a slick black outfit looks refined when you're out on the town, black and deep brown or gray homes look elegant and high-end. The dark tones provide a classy, luxe appeal—and that can be especially beneficial if you're planning to sell your home soon.
Offers Considerable Versatility
You might not realize it until you start looking at color choices, but there are numerous dark shades that may be appealing to you. Blacks, browns and grays all come in darker or lighter tints, with elements of red, blue, green or purple in them. You'll find the right tint to fit your home's unique elements.
Commonly Asked Questions about Dark Siding Colors
We get many questions about the visual appeal of deep, rich colored siding. Here's what you need to know:
Will dark exterior siding make a home look smaller?
Your home's architecture will have something to do with this issue. Dark tones can make a home feel grounded and substantial.
But if you're concerned that it may make your home look smaller, consider painting the lower half dark, and going lighter in color on the second floor to create a pleasing contrast.
Does a dark exterior siding fade faster than lighter shades?
It depends on the specific shade you use. Black can fade in the sun, but not always faster than other colors. Today's modern paints are super long-lasting, even darker shades.
Does dark exterior siding make a home less energy-efficient?
Not necessarily. In cold climates, dark colors hold in heat, so you're spending less on heating costs. But in hot climates, dark siding may bump up air-conditioning costs.
In northern Michigan, the cold climate mitigates this warming effect. However, if you're concerned about energy efficiency during the summer, choose gray rather than black—as gray absorbs less heat.
Is a dark siding color bad or good for resale value? Is it risky?
Homes that are black, dark brown, slate gray, hunter green, dark blue, or deep red don't look unusual at all. It's not risky to use these colors because today's home buyers find the style appealing.
Are there any other issues to keep in mind before I choose dark siding?
As with any home design, there are always a few cons as well as pros to weigh. For dark siding, you'll want to consider these issues:
Chips and scratches may be more visible on darker colors. To lessen this possibility, invest in a top-performing paint, or choose a product like James Hardie siding with baked-on factory color, which lasts up to 15 years, warrantied.
Going dark can be a big change to make. If you're used to light-colored siding, you might try a dark shade in a spot that's hidden from the curb, to see if you like it before investing fully.
Protect Your Home with Gorgeous New Siding
Your Michigan home deserves to catch the eye of your neighbors and make you proud. And the right siding installation will not only give you that style, but also provide lasting, low-maintenance protection that results in peace of mind.
When you're ready to consider new siding, remember that John McCarter Construction is here to make your installation a delightful experience from start to finish. Our siding services have satisfied hundreds of homeowners! Let us know if we can answer any questions or provide a free consultation and estimate on ways to boost your curb appeal and make you proud of your property.