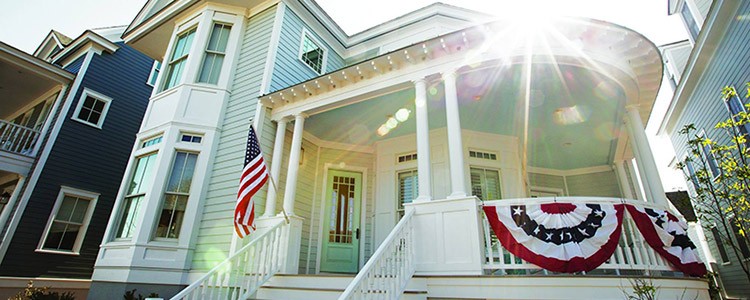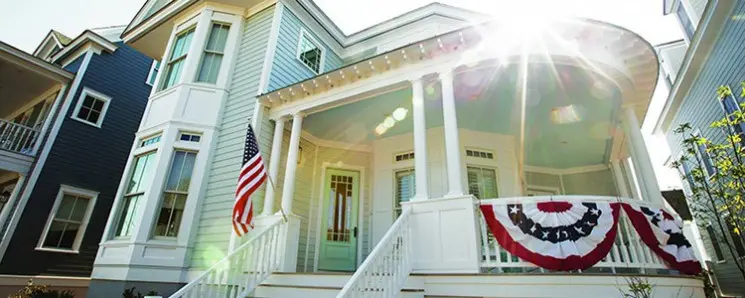 Over the years, we've found that Michigan homeowners have many questions surrounding one of the most common areas of home maintenance—paint. Many homeowners are unaware how often a home exterior should be painted, or don't even think about the condition of their paint job until they suddenly realize their home's outdoor paint is drastically peeling.
By the point you see severe peeling, your home is long overdue for a paint job. Yet painting the exterior of your home is a simple, cost-effective way to keep your home looking beautiful from the curb. And a strong coat of paint also protects your siding and lessens the effects of the weather on your home exterior. In other words—paint isn't something to ignore.
So, how can you recognize when it's time to invest in having your home exterior repainted? Look for these 5 signs and tips to help you decide.
1. The Material Your Home Is Built With
Different siding and building materials retain a coat of paint for different lengths of time. So, one key way to determine if your home is ready for fresh exterior paint is simply to ask yourself, "What type of siding is on my home?"
Here's a quick overview of how often a home typically needs to be painted, based on what they're made of:
Wood siding — every 3-7 years
Fiber cement siding — every 10-15 years
Vinyl siding — doesn't need repainting unless the vinyl has deeply faded
Aluminum siding — paint every 5 years
Stucco — every 5-6 years
Painted brick — every 15-20 years
2. Your Local Climate
The local weather can have a major impact on how well your home holds a coat of paint. No matter what your home's siding material consists of, these climate factors can mean you need to repaint more frequently:
Hot, sunny summers make paint fade faster.
Coastal homes weather fast due to exposure to sun, sand, and salt air.
A lack of trees means your home is less sheltered home from sun, wind, and rain.
Harsh winters and frequent storms can damage siding and wear paint down.
Extreme humidity also wears down your paint faster.
3. Type of Paint Currently On Your Home's Exterior
Because the sun's ultraviolet rays degrade paint over time, the type of paint you use can determine how well it performs. Higher-quality paints are more successful at resisting wear and tear. Even color choices can make a difference in the paint's longevity.
Keep in mind:
Dark paints fade or become discolored more noticeably and more quickly than lighter colors.
Oil-based paints suffer the sun's effects more quickly than acrylic and latex paints.
Glossy and semi-glossy paints are more likely to reveal flaws sooner than flat finishes.
4. Visible Signs of Paint Damage or Deteoriation
Once your home's exterior paint is showing visible signs of deterioration, it's time to start repainting. To judge the paint's condition, walk around the exterior of your home, looking for signs like these:
Scratches in the paint
Exposed patches where paint has worn away
Color that has faded
Discoloration or uneven shading
Paint that is blistering
Peeling paint
Paint that looks chalky or powdery
5. You're Ready For a Fresh Look
Sometimes, you're just ready for something new to give your home a makeover, and a fresh coat of exterior paint can go a long way toward creating a neat, new color scheme for your home that you'll love.
Consider repainting if:
You don't like the current color of your home.
Your home is a new purchase and you want to make it match your style.
You're living in a newly built home that may have been painted with a lower-quality paint.
You're getting ready to put your home on the market and want to freshen its look.
When It's Time to Repaint, Consider Hiring Pro Painters
It can be tempting to think about repainting your home exterior as a DIY project. Most often, painting your home yourself can be a good idea if:
You have plenty of free time to tackle the project.
You're an experienced painter who knows how to do it right the first time.
You have a one-story home or are comfortable and agile enough to paint on a ladder.
You have people who can help you get the work done in a timely fashion.
But many times, it is best to invest in bringing on a professional, experienced painting crew to tackle your home projects safely and efficiently. Pro painters offer a lot of advantages to homeowners:
Knowledge—They know exactly what types of paint are best for your particular home.
Safety—They have all the right equipment for the job, like tall ladders, and are trained to use this equipment safely so you don't have to do it.
Crew—They usually have a group of people handle the work, so the paint job gets done quickly.
Convenience—They handle the work for you, saving you time and manual labor.
Affordability—Painting is one of the most cost-effective ways to enhance your home's curb appeal, even if you're hiring a crew to do it for you.
Get the Beautiful Home Exterior Look You've Been Longing For
There's no need to wait any longer to turn a home exterior that needs care into a home exterior you can be proud of for years to come. And committing to maintenance like repainting is essential to keeping your home looking beautiful for many years, and lessening the likelihood of damage from the elements.
So, if you've noticed any of the 5 signs your home needs fresh paint, or if you'd like to talk with friendly, honest, experienced home improvement experts who can answer your paint questions, contact John McCarter Construction. We love helping Michigan homeowners make their homes as attractive as they've always dreamed.
The process is easy:
We help you determine paint colors, types, and designs that will make your home's unique architectural features stand out.
We keep you updated on our progress, answering your questions along the way to ensure you're satisfied.
You enjoy excellent results so you can be happy with your home's appearance.
Get started today. Simply contact us for a free consultation and estimate—so you can enjoy a beautiful home exterior you're proud of.