Residing a home can be a daunting prospect for homeowners. You're committing to an exterior siding that you want to love, and that you want to last a long time. You want to find a material that is durable, low-maintenance, and attractive, but most materials don't meet all of those requirements.
John McCarter has the solution for you: James Hardie siding. You may have heard it referred to by slightly different names: Hardie Board, Hardie Panel siding, and Hardie Plank siding, or even lap siding just to name a few. No matter which name you've heard, they are referring to James Hardie's superior products. James Hardie is the most popular brand of siding in North America, and Hardie Plank lap siding is the most popular siding choice in North America.
What is James Hardie Siding?
Siding is a significant part of your home. To state the obvious, it's one of the defining—if not the defining aspect of your home's exterior. It greatly adds to your home's curb appeal. Replacing your siding also has the potential to offer a great return on investment (ROI), depending on which kind of siding you choose for your residing project. Beyond looking great and being a source of increased home value, siding is functional: It provides insulation for your home. Energy-efficient siding helps keep your home cool in the summer and warm in the winter. Siding also offers protection from the weather's impact year-round, including anything that Mother Nature throws at it here in Michigan. James Hardie siding checks these boxes and more.
Fiber Cement Siding
You may be asking yourself, "So, what exactly is this siding made of?" James Hardie developed fiber cement siding, commonly called cement coard siding, more than 30 years ago. As the name suggests, fiber cement is a combination of cellulose fibers made from plant materials, sand, and cement. The mixture is dyed and then pressed into boards. It can be made to look like wood, cedar shingles, and smooth vinyl, among other options, and is available in a variety of colors.
What are the benefits to James Hardie siding?
There are numerous reasons to choose James Hardie siding. Here are some of the Hardie Board siding benefits:
Enhances Curb Appeal: Hardie siding offers the timeless, classic look of wood or other finishes. It's also available in a variety of colors, so you can find the one that suits your taste and makes your home stand out and be welcoming to guests. (You can also mix and match multiple finishes and colors.
Durability: Hardie siding can protect your home from weather events as well as the sun's UV rays, and animals: It's insect-, fade-, and hail-resistant. It also resists cracking, splitting, warping, and swelling. Hardie siding is made to withstand damage from moisture and rot. Finally, it's also non-combustible and won't ignite when exposed to a direct flame, and it won't contribute fuel to a fire.
Environmentally Friendly: Two common siding materials are wood and vinyl. Both are less eco-friendly than Hardie siding, which is great for the environment. The use of wood siding contributes to deforestation. Vinyl siding is created in a process that necessitates the consumption of fossil fuels. Because Hardie siding is made to last, it is less likely to end up in a landfill, unlike other siding materials.
Great Warranty: James Hardie siding used in Michigan comes with a 30-year warranty when installed according to the company's installation requirements.
Low-Maintenance: Hardie siding is easy to keep looking great. A quick power-washing is all it takes to get rid of dirt, grime, and debris.
Great ROI: We mentioned that siding in general offers a great ROI. James Hardie siding consistently ranks high on ROI, beating out projects including roof replacements, kitchen remodels, and installing vinyl siding.
Brand Recognition: James Hardie established the predecessor of the current company in 1888. The fact that his company has existed and continued to evolve over more than a century speaks to the brand's trustworthiness and superior products.
Vinyl Siding
Vinyl is an incredibly popular siding choice; it is inexpensive and is available in a variety of colors. It's understandable why so many homeowners choose it. Unfortunately, one of the ways in which that low price tag becomes apparent is when we look at vinyl's durability. Unlike Hardie siding, it can't stand up to extreme weather, and dents and cracks easily, especially during winter storms. It's more likely to need regular maintenance, and eventual replacement sooner than Hardie products will. Vinyl siding is also no match for fire, which melts the material almost instantly.
Wood Siding
Wood looks beautiful, and, unlike vinyl, is incredibly durable. It's a great choice for cottages and bungalows. Unfortunately, wood also requires a lot of maintenance. It is highly susceptible to the impact of temperature cycles and moisture, and so can warp or rot easily. And, of course, like vinyl, wood is flammable, so requires routine weather and flame-retardant treatments. It's also prone to damage by insects and other animals. As we've mentioned, Hardie is resistant to temperature changes, weather, fire, and attempted visitations by insects, birds, and other four-legged critters.
OSB Siding
OSB (Oriented Strand Board) is wood-composite that shares a lot of the downsides of wood, unfortunately. It's vulnerable to moisture, weather, pests, and fire. It can buckle and split as it expands and contracts in temperature cycles. Moisture absorption also can cause it to buckle or expand. Pests can penetrate it with enough persistence. Wood composite is also going to fade in the sun, unlike various Hardie products, and will require regular maintenance.
"We hired John McCarter construction to address a problem where woodpeckers had poked holes in the wood at the top of our chimney. The crew arrived on time and did a good job of communicating with me to achieve the desired result. Very professional from the front office as well the salesman and the work crew. I would use them again and would certainly recommend them!"
ROB T.


ColorPlus® and James Hardie Siding Color Options
One of the most daunting aspects of choosing siding is knowing that it is going to be what people see when they look at your home. You want to choose a siding that fits with the style of your home, that you love, and that you find the most aesthetically pleasing. We've mentioned that the benefits of Hardie siding include a variety of styles and colors for you to choose from, and that you can certainly mix and match if you find that multiple options offer together the right look for your home.
We want to talk about Hardie siding colors—specifically about Hardie's ColorPlus® Technology and how it adds even more benefits to your home's exterior. Whether you're considering a darker color like the classic deep Evening Blue, or the lighter, more neutral color like Cobble Stone, Hardie is sure to have an option that you love. If not, you can also choose to get siding that has been primed only, which you can then have painted any color by a painting company.
What is ColorPlus® Technology?
Hardie applies multiple coats (50% more than the average housepainter uses) of its proprietary finish to planks and trim. In between applications, the finish is cured, and so it will resist peeling, chipping, and cracking. ColorPlus® Technology is UV-resistant, which reduces fading, so your siding will look like new even longer than other siding will. Hardie wants you to be confident in your choice and to love your color. ColorPlus® Technology finish comes with a 15-year limited warranty that covers paint and labor, protecting against peeling, cracking, and chipping.
How to find a preferred James Hardie siding contractor?
We've told you about the benefits of Hardie siding and how it compares to other siding options. The next question you might have is, "How do I choose a Hardie siding contractor?" In order to take full advantage of the benefits of Hardie siding, you should have it installed by an expert contractor. John McCarter Construction is a James Hardie Elite Preferred Contractor. What does that mean? We consistently demonstrate the highest standards in quality and customer satisfaction, and specialize in the installation of a wide range of James Hardie product profiles and designs. According to James Hardie, all James Hardie Elite, Preferred and Rewards Advantage contractors must have a Homeowner "Likely to Recommend" score of at least 90% with GuildQuality, a third-party customer satisfaction surveying service. We are one of only a handful of siding contractors in Michigan that is qualified and trained by James Hardie. We are the most experienced James Hardie siding contractor in the greater Ann Arbor area.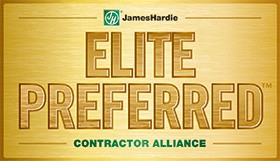 We know that you want to find the right contractor for your project. Here are 3 tips to help you find the perfect contractor:
Tip #1: Get referrals and check reviews
Ask neighbors and relatives in the area who have recently had a siding project completed which contractor they worked with and what their honest impressions are.
Contractors will likely have websites, and these will include customer testimonials. Do a web search to try to find as many reviews as possible. (Check Google and Angie's List, for example.)
Check out contractors' gallery to see previous work.
Don't be afraid to ask for client contact information. A reputable contractor understands that you want to have as clear a picture as possible about the kind of work that they do, and will provide contact information for previous customers who are willing to talk to prospective clients.
Check to see how contractors are rated by the Better Business Bureau.
Tip #2: Interview several contractors
With any luck, neighbors and relatives may give you several great leads. You want to be sure that you're talking to a handful of contractors so that you can be sure that you find the one who is right for you. James Hardie recommends talking to at least 3 contractors. Getting multiple perspectives can also give you a handle on aspects of the project like cost, duration, and any potential issues that you hadn't considered. Make sure that you give each contractor the same information so that they are able to give you the best estimates, timeline, and overall sense of the project. This will make it easier to compare contractors and make your final decision.
Pay attention to each contractor's:
Price
Experience
Reputation
Ease of communication
Professionalism
Tip #3: Ask questions!
A reputable contractor knows that you'll have questions, and won't rush you through a consultation. They will want to make sure that you feel comfortable and satisfied that you have all the necessary information to make an informed decision.
Questions to ask include:
What licenses and insurance coverage do you have?
How long have you been in business in my area?
What is your experience with projects like mine?
How often should I expect to hear from you during the course of the remodeling?
What warranties and guarantees do you offer?
How long will it take to complete my project? Can you provide me with a timeline?
What types of payment plans do you offer?
How do we ensure that we get all the proper municipal permits in a timely fashion?
Siding replacement projects can be overwhelming. The benefits of James Hardie siding are indisputable: The siding is durable, resistant to damage from Mother Nature and pests alike, easy to maintain, and available in a variety of colors and styles to suit any home.
John McCarter Construction has been in the business of helping homeowners repair their home exteriors for over 25 years. We are proud to serve the greater Detroit area and give homeowners the homes of their dreams. We look forward to talking with you about your project. Contact us for a free quote.