As a Michigan homeowner, you know that one of the few consistencies of our weather is that it's ever-changing. Over the course of the year, we experience varying highs and lows in temperature. It can range from bitter cold to scorching heat, humidity, heavy winds, rainstorms, blizzards, and dry spells.
Your windows can't keep up with these changes: over the years, your energy bills will climb higher in both the extremes of summer and winter as it becomes difficult for your heating and cooling appliances to keep your home comfortable year-round. Your windows also lose their like-new appearance as they take a beating from the elements. We'd like to tell you about the perfect solution to your window woes: Replacement Windows.
When is it time to replace my windows?
You may be thinking about your own windows and wondering whether it's time to replace them. Homes today are being built differently than they were even 10 years ago, nevermind 60! A small bungalow in the 1950s that was about 1,000 square feet and the perfect size for a small family transitioning from an apartment grew to 1,500 square feet in the 1970s as more women began to work outside of the home: A higher joint income meant families could afford larger homes.
In the early 2000s, homes referred to as "McMansions" by some for their large size and embellishments, were around 2,300 square feet on average. The average size dropped to around 2,000 square feet during the recession.
There is also a focus now on homes that are energy-efficient—this includes both on the inside—think high efficiency appliances—and the outside—durable siding and windows that will reduce energy costs and last longer than older iterations. 60-year-old siding and windows are no longer properly doing their job: protecting your home from the elements or pesky insects
Specifically, you'll want to think about the age of your home and the materials used in your windows, as well as whether there is any damage to them or your walls.
Here are 6 signs it's time to invest in replacement windows:
1. You have difficulty opening your windows. If you want to get a cross-breeze on a more mild day to cool down your home, and discover that a window won't open easily, this could be a sign that your windows are deteriorating and are in need of replacement.
2. A window's seal has been breached. If you see fog between the window panes, this means that moisture has breached the window's seal, and needs to be replaced. Another tell-tell sign that a window's seal has been breached is if you feel a draft.
3. Fabric in the line of sight of the window has faded. Whether it's your carpeting, drapes, or your upholstered couch, faded fabric is frustrating to deal with, and can be extremely expensive to replace. Some newer windows are made with glass that works to mitigate the fading effects of UV rays on various surfaces.
4. You notice moisture damage on nearby walls. Chipped paint on walls around the windows is another indication (like fog) that moisture is breaching the windows and getting into your home, causing damage that can become very expensive to repair, the more extensive that it is.
5. You've noticed that your energy bills are getting higher. If you notice that your heating or cooling bills from this most recent summer or winter were inexplicably higher than in prior years, this may be due to your windows no longer being up to the task of keeping the heat in during the winter and keeping cold air in during the summer: Your heater or air conditioner had to work for longer periods of time to regulate your home's temperature, and older windows are a likely culprit.
6. You've noticed that your window frames have started to warp. In addition to not looking attractive, warped frames will exacerbate the other issues that we've mentioned, and are a good reason for you to get new windows as soon as possible.
What Is The Best Type Of Window Material?
After looking over our checklist, you've realized that some of those problems are ones that you've noticed in your home and so you want to start looking at new windows and have done some web searches. Now you have more questions. Among them: "Should I choose fiberglass or vinyl windows?"
Perhaps you're thinking about selling your home and wonder what window material will be available in a few years. Or maybe you're wondering if homebuyers will be less interested in your home if it has a certain window type, even if those windows are brand new.
Vinyl is a common choice for windows. The odds are good that most of the homes in your neighborhood have vinyl windows. Your home likely does, too. Vinyl is less expensive than some other window materials, and it doesn't require painting or staining, and is energy-efficient. The hollow spaces in the vinyl can be filled with insulation, helping your home retain heat in the winter and cold air in the summer.
Benefits Of Vinyl Windows
Durable
Vinyl windows are incredibly weather-resistant and can last 20+ years.
Low-maintenance
Vinyl is low-maintenance, something every homeowner will appreciate. All you need to clean it is water and a mild detergent.
Long Lasting Appearance
When it comes to another kind of replacement, we mentioned earlier that vinyl didn't need to be painted, which is a plus…You won't have to sand and repaint the finish, and the color won't fade, chip, or peel.
Energy-efficient And Environmentally Friendly
Heat transfer can cause many problems for older windows. But vinyl windows have hollow spaces that can be filled with insulation, making them energy efficient. It costs less energy to manufacture vinyl windows because they are made from a man-made material that is recyclable.
It Increases Your Home's Resale Value
Vinyl is desirable to many homeowners because it is energy efficient and being used more in newer homes. It is thought of as more "current" and modern. While windows might not be the most important factor in determining your home's asking price, you can definitely feel comfortable with increasing the price if you have vinyl windows.
Purchasing windows that are less expensive because of their materials now may lead to increased costs in the future should you need to repair or replace them sooner than you'd intended.
Fiberglass is another common window material. Fiberglass is made of a thermoset resin, which is a combination of resin and liquified glass fibers. You're going to pay more for fiberglass than for just about any other window material including aluminum, vinyl, or clad-wood, which has the look of wood without the associated higher cost.
Because fiberglass contains glass, it will expand and contract in the same manner that the window glass will, lessening the likelihood of another common problem we've mentioned: seal failure.
What you need to know about Window Energy Efficiency

Energy efficiency is something homeowners are concerned with when it comes to replacing windows. You might be asking yourself, "Does window size affect energy efficiency?" The answer is yes. Here are a few of the Pella Window options and a quick rundown on the reasons why Pella Windows are energy-efficient.
Poor insulation leads to low energy efficiency in a home and high heating bills in the winter followed by high electric bills in the summer thanks in large part to an overtaxed air conditioning system. The typical source of poor insulation is large windows.
If you have an older home with original windows, chances are the glass is very thin and the frames are poorly insulated. This results in the glass easily conducting cold or hot air from outside your house to the inside. Frigid winter temperatures and hot summer temperatures don't stay outside for long, but easily permeate your home.
Fiberglass windows have superior weatherization and insulation properties, which make them a great choice for areas with the potential for harsh weather, from winter storms to extreme summer heat. Their extremely low conductivity enhances their efficiency; you won't need to worry about unpleasant outdoor temperatures invading your home.
As such, your windows will also maintain their shape regardless of what Mother Nature brings to Michigan. That, along with the material's resistance to chipping, fading, or chalking, ensures that your windows will look great years after you install them.
Pella Window options and energy efficiency
If you take a look at Pella window options, you'll see that you have a variety of choices:

Double Hung Windows
Single Hung Windows
Casement Windows
Awning Windows
Glider Windows
Bay & Bow Windows
Round Top Windows
Tilt Turn & Hopper Windows
Specialty Windows
It is likely that if you are going to replace all of the windows in your home, you'll end up incorporating more than one style. If you are only replacing windows in one or two rooms, you may want to choose just one. (Check out Pella's Window Inspiration Gallery for ideas!) Looking at the windows, you will note that the most obvious differences between them are their appearances and how they open.
Casement, awning, and tilt-and-turn windows open outward or inward. When they are locked, they are pulled snugly against their weatherstripping. These compression seals make them even more energy efficient than windows that slide vertically (for example, hung or double-hung windows and glider windows), which lack that compression seal.
Common Mistakes Homeowners Make when Replacing their Windows
We know that deciding to replace your windows can seem like a daunting task: You want to make sure that you choose the right windows for your home, and you want your investment to be the right one. We want to make this process less overwhelming for you.
With that in mind, here are five common mistakes that we've seen homeowners make.
Mistake #1: Hiring a contractor without doing research.
You'll want to interview multiple contractors before picking the right company for you. Read internet reviews, solicit recommendations from friends, and pick up the phone. Don't be afraid to ask any questions that you have.
A good contractor will want you to feel that you are making the right choice for your home and that you have all the answers that you need to make an informed decision.
Mistake #2: Choosing poorly made materials
Most homeowners are working within fixed budgets and want to get the most for their financial investment, while not spending more than they absolutely have to. Cheap, poorly made materials might seem like a good idea now, but will have to eventually be repaired or replaced.
Over time, you will end up spending more money than than the more expensive, but better quality, products cost up front.
Mistake #3: Not checking the structural integrity of the frame
A window is only as good as its installation—another reason that you want to hire the right contractor. Don't do this work yourself!
You'll also want to check the structural integrity of the new window frames. A window's energy efficiency is dictated, in part, by the soundness of the frame.
Mistake #4: Choosing windows that don't complement your home's design
You have a wealth of pictures of window options online, and you can also easily take a drive around your neighborhood to see even more ideas in person.
But what looks good in a photograph or in someone else's home might not be the best match for your home's current style. An experienced contractor will be able to tell you which options are the best fit for your home.
Mistake #5: Going with your current window manufacturer
Maybe you've always loved your current windows, but know they are in need of replacing. We are comfortable with what we know, and it makes sense that you'd first look to your tried-and-true window manufacturer when thinking about undertaking this project.
But that doesn't take into account changes and advances in window manufacturing that have happened since your windows were installed. Talk with contractors about possible options you've not considered. Let them know what you've loved about your current windows, and the contractors should help you find the best new windows possible.
We discuss these and other mistakes that homeowners have made when choosing new windows as well as more easy ways that you can avoid issues when you have your windows replaced.
How to Choose the Right Window Installation Contractor
One of the most common mistakes that homeowners make when replacing their windows is that they don't do enough research into different companies before hiring one. Perhaps they choose the first contractor that they speak with— that could lead to even bigger headaches down the road.
So how do you choose the right contractor? Here are 6 tips to make the process easier to manage and to help you ensure that you're going to hire a reputable company. Check these things before you start:
Tip #1: Make sure that the company has insurance.
An above-board contractor will have no problem showing you their contractor's certificates and proof of insurance. You could be liable for an injury on your property if the contractor does not have insurance.
You'll also want to make sure that the contractor is licensed in your state and/or your city. This will give you assurance that the contractor has passed required exams and is continuing their education.
Tip #2: Get references and referrals.
We mentioned this earlier: Part of doing your homework means doing research into the various contractors in your area. Ask your neighbors and coworkers if they have recommendations.
Most contractors put customer testimonials on their websites, and are happy to give you other references. But do some looking around to find the opinions of customers whose reviews might not be immediately found.
Tip #3: Find out how much local experience a company has.
Maybe a contractor has just moved to the area and so hasn't had a lot of local clients yet. (Check customer reviews from their previous location!)
But, if a contractor has been in business in your city for a long time and has great reviews, you can feel comfortable knowing that they know the area well and do quality work.
Tip #4: Beware of scams.
While most contractors want to use their skills and expertise to help and satisfy clients, it's always possible to run into someone who is attempting to scam you. Watch out for a "bait-and-switch."
Maybe a contractor will offer you an inexpensive window. He's trying to entice you with a low offer only to charge you for unexpected issues that will "arise" later. If a contractor tries to pressure you into signing a contract right away, walk away. Honest contractors will give you time to think and research multiple companies before making a decision.
Tip #5: Get multiple bids.
As you do your research and find several companies that you're interested in, ask for multiple bids. A low bid could mean that a contractor isn't insured—he doesn't have to pay high premiums—and a high bid could be an indication that a contractor is looking to scam you. If you get several bids that are around the same price point, you can then look at other aspects of the company to make your decision.
Tip #6: Find out about the contractors' window selections and installation processes.
There are numerous types of windows and installation processes. One of your questions to various contractors should be for them to explain the window options available, and then detail the installation process so that you have a clearer picture of what will happen when you choose a contractor for your project.
What's a typical window installation process?
If you've never replaced windows before, you're probably wondering what to expect. While every company is different, and you can and should speak to your contractor about their particular process, we can give you a general idea of what will happen.
Before installation:
Make sure that you confirm the date and time of the installation.
If you want a window to be saved, or have another specific request, put a sticky note on the window.
Day 1

You'll meet with the foreman and have a chance to look at all the new windows, and can see whether you notice any damage to them (there likely won't be any) and that the company has brought the correct ones. As you walk through your house, make sure that the crew has placed drop cloths. You can also put some outside to help protect flower beds and other shrubbery.
If two crews are present, windows will be removed by one and installed by the other. During the installation process, first, ropes for the window sash weights will be cut. The sash weights drop to the bottom of the window pocket. Next, installers will set new windows in place and level them with shims. Once a crew member is sure that the window is level, it will be nailed into place.
If your installation process will take more than one day, at the end of the first day, make sure that all installations are finished; you don't want any windows boarded over. The contractors will remove their tools and sweep up any mess. They will also take away the old windows
Day 2 (and beyond, if necessary)

The installation process of new windows will continue (if necessary). Once that is complete, your contractor crew will install exterior trim. Cladding is a weather-tight seal.
After this is done, the house will be swept, and the windows will be tested. For most average-sized homes, the install process takes 2 or 3 days.
After installation

Once the crew has left, and you've spent some time admiring your new windows, you should check for these issues:
Gaps
Your contractor would have likely noticed these before leaving, but, you want to make sure that there are no gaps between the window frame and the window sill or between the frame and the wall.
Drafts or Stuffiness
You might not notice these on the day the installation is finished, depending on what the weather is, but if you soon detect drafts or your home feels extra stuffy, there could be a problem with the window installation. Similarly, keep an eye on your energy bills after installation. If there's an unexpected rise in your bill, it could be due to leaks around your windows.
Leaks or water damage
Pay attention after the first rain event once your new windows are installed. Are you noticing leaks or water damage? If water is getting around the windows or you notice damp spots on your walls, the likely culprit is a window that wasn't installed properly.
Condensation between the window panes
We mentioned this earlier as a sign that your windows would need to be replaced. Noticing moisture that has gotten between the panes is a sure sign that there was a problem with the window installation.
Window sashes are hard to open
As a house settles, windows may become harder to open over time, but new windows should open easily and smoothly. A difficult sash means that a contractor installed one that is either slightly bigger or smaller than the window.
What are the Most Popular Types of Replacement Windows?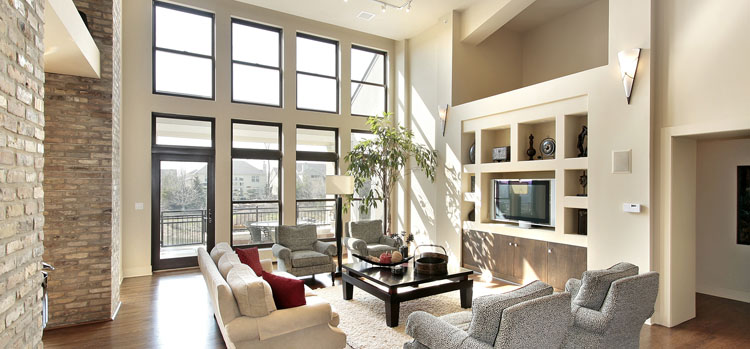 Vinyl windows are inexpensive, easy to clean, weather-resistant, and energy-efficient. Fiberglass windows are more expensive than vinyl, but they are also more durable, energy-efficient, low-conduction, and they can last for decades. Some people opt for wood windows. Wood windows are beautiful additions to any home, can be painted to suit your tastes, are insulated, and can withstand harsh weather.
We recommend Pella windows because they are the perfect blend of form and function. Pella uses only the highest-quality materials to build windows that will last for decades and add beauty to any room of your home, and has customizable options to make sure that you get just the windows that you're looking for.
Pella Windows — Reliable and Durable Year-Round
Pella's fiberglass windows are a favorite of many Michigan homeowners.
Powder-coat finish — mimics the look of wood for a natural style
Strong designs — known for lasting against time and weather
Patented composite material — withstands extreme heat and cold
Optional foam-insulated frames — meets or exceeds ENERGY STAR® guidelines
Atypical window openings are not a problem for Pella or for us. Pella windows are energy-efficient, so your home will stay cool in summer and warm in the winter; you'll be able to keep your energy bills down all year long. Pella also prides itself on being an industry innovator, so you can be assured that the windows you're getting are the result of their continual research and upgrades.
Cost of Replacing Windows
You're probably wondering how much replacement windows cost. Every homeowner's situation is different, of course, and there are numerous factors that affect the price of a replacement window project: How many windows are you replacing? What kind of windows do you want? What materials will the window be made from? If you are replacing all of the windows in your home, it is safe to assume that your costs will at least be in the low five figures.
According to Home Advisor, in 2018, window replacement costs run between $300-$700 per window, assuming that the window is going into a structurally sound frame on the ground floor of a home. These costs can nearly double for a two-story home.
One way to keep your replacement costs lower is to purchase single-hung windows, which are less expensive than double-hung windows. Single-hung windows only have moveable lower sashes. (You open the window by pushing the sash up.) With double-hung windows, you can open both the upper and lower sashes.
Do you need to replace your windows?
We've talked about some of the tell-tale signs that you might need to replace your windows including noticeable drafts, broken window seals, or higher energy bills. We've discussed several potential options for replacement windows, and why fiberglass is a great choice: It's durable, energy efficient, easy to clean, and can handle Michigan's widely varying temperatures and weather events all year long.
When you're ready to plan to replace your windows, you know the importance of talking to multiple contractors, checking to see that they are insured, that their customers have praise for their work, and that they are familiar with your area.
John McCarter Construction has proudly served the greater Detroit area for over 25 years, and worked with thousands of happy homeowners. We aren't satisfied until our clients are satisfied. We'd love to talk with you about your needs, and show you some beautiful replacement windows! Contact us today by filling out the form here or call us at 248-446-1750 to get your free quote. We're looking forward to hearing from you and answering your questions.