Also Serving the Rochester Hills & Detroit Metro Areas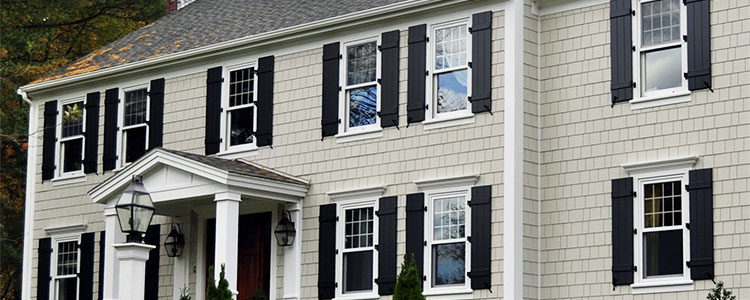 Transform Your Ann Arbor or Rochester Hills Home with James Hardie Siding
What's the big deal about James Hardie fiber cement siding? Well, we've been performing home improvement and remodeling services for many years, and we've seen a lot come and go. James Hardie siding is one of the brands that we are proud to be associated with. Their siding products are among the highest quality you can find, and both James Hardie and John McCarter Construction believe they are the best investment you can make in your home's exterior.
If you are looking for quality siding for your home, the team at John McCarter Construction has you covered. James Hardie Siding is one of the premium siding replacement choices available and we can install it for you with top-notch workmanship and service!
What is James Hardie Siding?
James Hardie siding is a fiber-cement siding that provides your home with functionality, versatility, and value for the money. James Hardie is a recognized name in the real estate and construction industry. When you choose James Hardie siding for your home, you will enjoy the variety of colors and the look that you get from your new siding.
Benefits of Installing James Hardie Siding on Your Ann Arbor Home
There are a number of reasons why you may want to replace the siding on your home. Whether it is fading, old, outdated, or you simply are not happy with the color of it, you will find that James Hardie fiber cement siding offers amazing colors and quality.
Some of the benefits of using James Hardie siding include:
Low maintenance
Resistant to fading
Beautiful appearance
Boosts the value of the home
Weather resistant
Insect resistant
James Hardie Siding Options
We install a variety of James Hardie siding products including:
HardiePlank siding
If you've decided you like a more traditional appearance for your home, Hardie offers "Hardie Plank Lap Siding" – long boards designed to mimic the appearance of wood. But wait – that's not all! Within the "Lap Siding" choice, you have a number of subcategories – Select Cedarmill (close in appearance to wood siding), Smooth (a flat finish), Beaded Cedarmill (think New England seaside towns), and Beaded Smooth (a variation on Smooth with a bit more texturing).
HardiePanel Siding
Perhaps you like your siding vertical. No problem! Available in vertical siding from Hardie is Select Cedarmill, Smooth, Stucco, & Sierra 8 (giving your home something of a well-loved appearance).
HardieShingle Siding
If you love the look of shingles on the exterior of a home, Hardie has you "covered". Within the Hardie Shingle arena, your choices include Staggered Edge Panels (think rustic), Straight Edge (for a more uniform appearance), or Half-Rounds (similar to the charming homes on farms outside the Ann Arbor area).
HardieTrim Boards and HardieSoffit Panels
If you're redoing your home's trim or soffits, make sure to check out Hardie's products – they've got options to match your existing siding or spruce it up with a new design!
"McCarter has done siding and trim work on my house. They show up on time, do a nice job, and clean up when they're done. I have been pleased with their work."
BRIAN C.


Why Work with John McCarter Construction?
When you work with John McCarter Construction, you are working with the most experienced James Hardie Elite Preferred siding contractors in the greater Rochester Hills & Ann Arbor areas. We guarantee all of our work and provide you with the best recommendations that make sense for your home.
We are honored to hold the James Hardie Elite Preferred Contractor status. We always follow the strict James Hardie installation process to ensure your siding conforms to their specifications. You will receive a warranty with your siding as well.
Professional Hardie Board Siding Installation
Once your new siding is on your home, you will be blown away with the way it looks. Our team is ready to provide you with phenomenal results. Our customers rave about the work we have performed for them.
If you want new siding for your home, contact us for a FREE James Hardie siding consultation and quote.
Home Exterior Facelift Process
Get a Free Quote
We listen to you and take the necessary time to inspect your home properly so your James Hardie siding installation quote is accurate and you know what to expect through the process.
Design Your Home Exterior
While installing long-lasting, quality products on your home, our teams keep you up-to-date on our progress until the last piece is installed—without shortcuts.
Be Proud of Your Home Again
There's nothing like getting compliments from your Michigan neighbors and feeling satisfied that you have the best-looking home on the block!
Our Workmanship Guarantee
We will listen to you and give you options to solve your siding and home exterior problems. Then, with a comprehensive proposal, you'll know what to expect before your job starts. While working on your project, our licensed and insured contractors will keep you up-to-date with photos and even say "hello" every morning and "we'll see you tomorrow" at the end of the day.