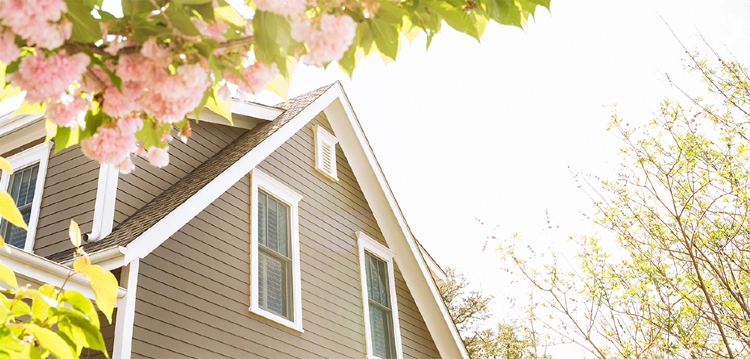 When you're considering how to boost the value of your home exterior, choosing the right siding can make all the difference. The right siding can dramatically enhance your appreciation and joy in your home. For this reason, many homeowners find themselves debating between two appealing options: beautiful, natural cedar siding and versatile, long-lasting fiber cement siding.
How do you figure out which siding option is a better fit for your needs? Begin by considering the most common ways your siding can benefit your home exterior. Here's a closer look at how these two popular siding choices compare on a number of important factors.
MATERIAL
Let's take a look at how cedar siding and Hardie Board siding are made.
CEDAR SIDING
The name says it all. Cedar siding is made from either red or white cedar trees, which are native throughout the United States. Cedar is prized by homeowners for its traditional look and natural appeal.
FIBER CEMENT SIDING
A man-made material, fiber cement is composed of Portland cement, sand, and cellulose fibers. It is a great choice for homeowners who want both curb appeal and enduring results. The most popular fiber cement siding is James Hardie® siding, also called Hardie Board.
STYLE AND LOOK
When upgrading your home exterior, curb appeal, architectural style, and customizability all matter. Cedar and fiber cement offer different advantages here.
CEDAR SIDING
Cedar is an adaptable and beautiful natural wood. It retains its shape well, and it can be easily and attractively stained or painted while still allowing its natural grain to show through in a variety of styles from board and batten to cedar shakes and beyond.
Because it's classic and traditional, many homeowners consider cedar for Victorian and Queen Anne style homes. But keep in mind that cedar needs frequent upkeep to retain its beauty.
FIBER CEMENT SIDING
For a modern look, the sleek and smooth styles of Hardie Board siding can't be beat. Fiber cement is perfect for creating neat, modern lines. But fiber cement also can be shaped to mimic wood grains, so if you want a wood look without the maintenance, fiber cement siding is a good option. Plus, James Hardie siding can be either primed for painting, or infused with baked-in color that is warrantied for up to 15 years.
DURABILITY
As you think about the home exterior of your dreams, consider how long you'd like your siding material to last.
CEDAR SIDING
Like any wood, cedar is vulnerable to the weather, especially moisture. Termites, mice, woodpeckers, and other pests love to eat away at this siding. And cedar's paint wears off quickly, needing repainting every 3-5 years.
FIBER CEMENT SIDING
Unlike wood, fiber cement is not appealing to woodpeckers, insects, and other pests. It doesn't rot. Hardie Board siding is warrantied up to 30 years, and can last even longer if properly installed and maintained. And it doesn't need to be repainted as often as wood. In this area, fiber cement wins, hands down.
EASE OF CARE
Another area to consider is how much attention you want to give yearly to your home exterior, because cedar and fiber cement require different levels of care.
CEDAR SIDING
Wood needs regular, attentive upkeep to maintain its beauty and endurance. In addition to frequent repainting or restaining, cedar also needs to be checked for signs of rot, as well as holes from pests. These issues need to be repaired promptly to prevent further damage.
FIBER CEMENT SIDING
Since James Hardie siding resists weather, moisture, pests, fading and peeling, it needs much less maintenance. Once a year, simply wash away dust with soapy water and a gentle, soft nylon bristle brush, and rinse with a garden hose. For ease of care, fiber cement is a clear winner.
ECO-FRIENDLINESS
Both cedar and fiber cement are environmentally "green" siding choices for homeowners to take pride in.
CEDAR SIDING
Wood is biodegradable, which means it will break down instead of contributing to landfills. And wood can often be recycled for further sustainability.
FIBER CEMENT SIDING
Though fiber cement siding isn't biodegradable, it is inert and nontoxic. Its long-lasting nature means it is less often removed and replaced, so it contributes less often to landfills than other materials.
PROTECTIVE QUALITIES
Did you know your home siding choice can affect how safe your home is in case of emergencies? Consider this:
CEDAR SIDING
Though wood is a beautiful material, it is also easily set ablaze, contributing fuel that makes a house fire worse. To combat this, cedar must be treated with fire retardants.
FIBER CEMENT SIDING
Fiber cement doesn't burn, so it doesn't contribute to a fire. In fact, Hardie Board siding is rated as noncombustible. Many insurance companies offer discounts for homeowners that use Hardie Board because it doesn't combust.
PRICE
Finally, the cost of siding installation is something every homeowner should take into account. Beyond the cost of materials and installation, you should also consider how much you will need to invest in maintenance, repainting, residing, and resale value to get a full sense of your return on investment.
CEDAR SIDING
Cedar is pricey, at an average of $5-7 per square foot. The installation process is less involved than fiber cement siding. But this is offset by the frequent upkeep required—including repainting, restaining, replacing rotted boards, etc.
FIBER CEMENT SIDING
Fiber cement averages around $3-4 per square foot, making it a little more affordable than cedar. Because it is a heavy material requiring more manpower, the installation can involve a larger crew and cost more than other materials. But when you account for the much lower maintenance needs and the longer lasting nature of fiber cement, James Hardie siding is cost-effective. And because homebuyers prize it, Hardie Board siding offers a great return on investment.
THE VERDICT
While both cedar and fiber cement have their advantages, Hardie Board fiber cement siding is an excellent option if you desire a strong return on your investment for years to come.
If you are still unsure about which siding to choose or if you'd like to learn more about your options, our team at John McCarter Construction is happy to assist you. Contact us to receive a free quote and consultation to help you choose beautiful, durable siding you'll love.