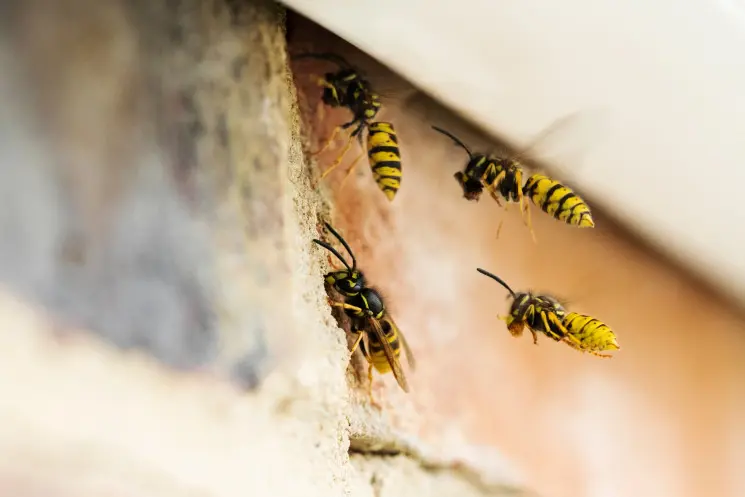 James Hardie Siding (AKA Hardie Board) is a popular choice for American homeowners—one that does a top-notch job of keeping away insects and other pests better than other materials do.
Read on to learn how James Hardie siding helps to safeguard your home from insects, squirrels, and woodpeckers for years, worry-free.
What Makes Hardie Fiber Cement Siding Pest-Resistant?
Unlike wood and vinyl, fiber cement siding gives you all the advantages of a beautiful, elegant siding, without the challenges that make wood and vinyl so vulnerable to pest infestations. And of the fiber cement siding options, products from the industry-leading James Hardie company make an excellent investment that you'll appreciate for decades.
Critters Can't Eat It
Made of Portland cement, sand, and cellulose, fiber cement is a versatile manmade material that is inedible—so bugs and birds can't chew it or digest it. That means termites and beetles won't hang around, and woodpeckers and other birds won't hunt in your siding for their next meal.
Pests Can't Break It Down
Hardie siding is thick, heavy, and durable—so insects, woodpeckers, and other animals can't drill or chew holes into it. Because Hardie fiber cement resists pest damage, it retains its protective surface, keeping moisture at bay and keeping your home's structure safe.
Insects Can't Sneak Behind It
Hardie siding is Engineered for Climate™, meaning it is made to stand up to Michigan's cold, wet weather and humidity while staying snugly fit against your home. It doesn't expand and contract as much as other siding materials—so you won't have the gaps that make vinyl susceptible to nesting insects.
How Does James Hardie Siding's Pest-Resistance Compare To Vinyl and Wood Siding?
Wood and vinyl siding boards are common on many homes in the Detroit and Ann Arbor, and Rochester Hills areas. If you plan to use these materials or if your home already has wood or vinyl siding, be aware that you'll very likely have to address problems caused by insects, rodents, and birds that are attracted to gnawing on or drumming on these siding boards. 
Wood Siding Is Highly Vulnerable to Pests 
As a natural material abundantly available around the world, wood has been a convenient and traditional substance to use in building houses. But as you'd expect from an organic material, it can be used as food or shelter for many bugs and animals. And the damage they do can put your home at risk of leaks and structural problems.
Termites and powderpost beetles are drawn to wood for food, and they can continue eating away at your vulnerable wood for years before you detect the damage. By then, you could have these bugs all throughout the wood in your home.
Carpenter ants and carpenter bees build nests within wood, creating many small holes that, over time, can weaken your siding and make it more vulnerable to rot.
Woodpeckers dig into wood siding looking for these insects to eat. They also create small holes while drilling to create sound patterns meant to attract their mate during breeding season.
All these issues make Hardie siding a much more attractive alternative to wood.
Vinyl Siding Can Attract Pests Too
You might think that as a manmade substance, vinyl would be free of pests. But that's not the case.
The problem with vinyl siding is that it easily expands and contracts due to exposure to changes in the weather. So, it must be installed with gaps to allow for that movement; otherwise, it will warp and buckle. 
Those gaps, so necessary to keep the siding in place and looking good for curb appeal, can, unfortunately, allow a way in for insects to get behind the vinyl and into your home's substructure. Termites, carpenter ants, carpenter bees, and powderpost beetles can sneak in and start eating your structural wood beams.
In addition, the gaps create room for wasps, bees, hornets, and spiders to crawl in and build nests, creating an infestation of these unwanted creatures that can sting and bite.
Say No to Pests—and Say Yes to Beautiful New Hardie Siding 

To install Hardie Board properly, remodeling companies undergo training and certification with the James Hardie company to give you a precision fit that not only resists pests but looks gorgeous and keeps your home safe from weather and wear.
The John McCarter Construction team is an Elite Preferred Contractor for James Hardie, with the highest qualifications and expertise, so you can be confident your siding is installed with excellence.
Learn more about the benefits of installing James Hardie siding for your Detroit and Ann Arbor area home—and enjoy the lasting, pest-free results that keep your property looking its best.